Op deze mooie dinsdag heb ik weer een echte inktige D-INKT!-sdagkaart te laten zien. Wederom in de Split Panel techniek, maar nu met wat meer laagjes in de achtergrond dan de vorige keer....
Door alle laagjes, structuur en kleurnuances krijgt de achtergrond een mooie "ijzige"uitstraling. Echt de koele sfeer van een winters dennenbos.
Om dit te maken heb ik even heerlijk met inkt gekliederd! Ik kan er niets aan doen, maar ik houd er van! ;o) Zo leuk om techniekjes te bedenken en zo elke keer een nieuw effect te maken!
Deze mooie techniek hebben we laatst behandeld in een van de Workshops van de Kijkkast Stempelclub. De Clubleden vonden het helemaal super om dit te leren!
Mocht je trouwens interesse hebben, door een paar verplaatsingen ivm andere werkdagen van enkele deelnemers is er op de woensdagmorgen weer plaats vrijgekomen voor twee deelnemers! Mocht je dus zin hebben, en ook graag nieuwe technieken, stijlen en toepassingen willen leren EN ook nog eens voordelig aan je stempelmaterialen willen komen, dan ben je van harte welkom! Je vind alle informatie op de Kijkkast- Stempel-Clubpagina!
Wat natuurlijk vooral opvalt op de kaart is deze prachtige boom. Deze stempel komt uit de supermooie set Winterwoods, waarmee je winterse bossen in diverse stijlen kunt maken!
Met deze boom is iets bijzonders...
De diesset waarmee je de bomen en diverse bijpassende onderdelen kunt uitstansen hebben een leuk "ingebouwd effect", aangezien je er bomen met volume mee kunt maken. Dit bestaat niet alleen uit flapjes die je naar voren kunt vouwen zoals op bovenstaande foto van de kaart goed te zien is...
Maar je kunt er ook lagen mee maken. Er zitten namelijk voor deze boom twee dies bij de set. Een dichte "normale"en een opengewerkte iets kleinere. Door deze twee te combineren maak je deze boom met "volume"....en ook als je onder de flapjes kijkt loopt het afbeelding gewoon door, wat het allemaal veel echter maakt! Echt heel gaaf!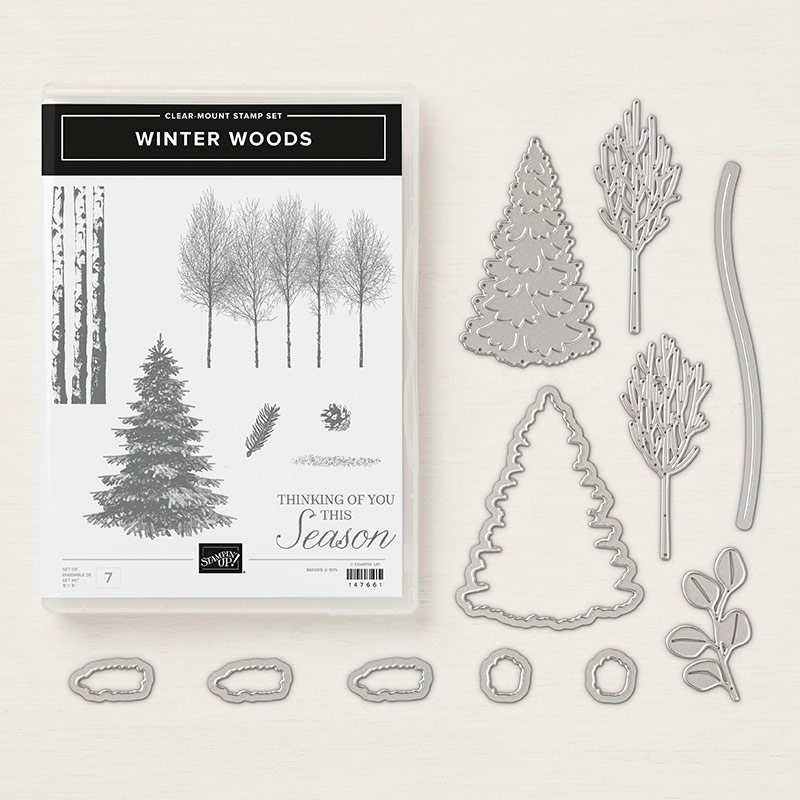 De set Winter Woods is zowel in Woodmount- als Clearmountversie te bestellen. Bestel je ze samen met de bijpassende In The Woods Framelits heb je tien procent bundlekorting!
Stempelset Winter Woods CLEAR en In the Woods Framelits als Bundle-149992-61 euro
Stempelset Winterwoods WOOD en de In de Woods Framelits als bundle_-149991-70 euro
Op de splitpanel achtergrond komt de boom prachtig uit. Door hem net buiten het kader te plaatsen krijg je een mooi diepteeffect.
Met dezelfde set, en ook met de splitpaneltechniek maakte ik pas geleden ook
DEZE KAART
, maar deze is net weer even anders, qua kleur, qua sfeer en qua techniek.
Houd je ook van die sprookjesachtige wintersfeer? Met deze veelzijdige set is het echt heel makkelijk!
De mooie tekst die in de achtergrond verwerkt is, en aan de binnenkant van de kaart terugkomt, komt uit de
Nederlandstalige stempelset
Vrede met Kerst!
Ik blijf het geweldig vinden dat je dit allemaal gewoon met stempels en inkt en wat handigheidjes zelf kunt "scheppen"! En dat terwijl je helemaal niet hoeft te kunnen tekenen of schilderen.... Met de goede materialen kan iedereen dit maken!
Wil je ook leuke technieken leren? Ik zou zeggen, kom eens gezellig workshoppen of kom gezellig bij onze Stempel Club! Je bent van harte welkom, je leert elke keer nieuwe dingen en het is altijd supergezellig!! Daarom komen er ook mensen vanuit het hele land naar de Kijkkast toe, en we hebben zelfs een aantal trouwe workshopgasten uit het buitenland. Dat ze zo ver willen komen reizen blijf ik heel bijzonder vinden en ik ben daar super-dankbaar voor! <3 br="">3>
Wat heb ik gebruikt:
Stempels: Winter Woods, Vrede met Kerst
Papier: Cardstock: Thick Whisper White, Shimmery White, Whisper White, Pear Pizzazz
Inkt: Shaded Spruce, Mossy Meadow, Pear Pizzazz
Dies: In the Woods Framelits
Tools: Big Shot, Stampin'Sponges, Stampin'Spritzers, Heat Tool, Silicon Craft Sheet
Tot snel!
Annette
Eerstvolgende (mee)besteldagen:
Maandag 12 november om 19.00 uur
Maandag 19 november om 19.00 uur
De Kijkkast Stempelwinter! Volledig workshoppakket met videotutorials!
ALLEEN IN NOVEMBER: Snowflake Showcase!
Exclusieve Producten-Speciale Kijkkast-aanbieding!
en spaar voor gratis producten!
***Met diverse Clubvoordelen ;o)***
Wil jij graag de nieuwe
jaarcatalogus en/of herfstwintercatalogus ontvangen??
Vraag er eenvoudig eentje aan door mij een EMAIL te sturen
BEN JIJ OOK ZO DOL OP STEMPELS?
***Beleef NOG meer plezier aan je stempelhobby,
***krijg korting op al je bestellingen
***en wordt lid van mijn team!
***Klik HIER voor alle informatie!