Er is een groeiend aantal stempelsets ook in het Nederlands verkrijgbaar!
Op dit moment hebben we 14 Nederlandse Stempelsets, waarvan vier nieuwe in de jaarcatalogus en twee nieuwe in de Herfst-Wintercatalogus.. Bij een aantal sets zijn ook bijpassende diessets of ponsen.
Deze Nederlandse sets zijn niet alleen vertaald maar waar nodig ook aangepast aan onze taal, cultuur, en gewoontes, kortom, het zijn teksten zoals wij ze graag op onze kaarten willen gebruiken! ( we zijn er dan ook heel erg blij mee!)
Een veelzijdige set met leuke informele teksten in leuke afwisselende lettertypes, die ideaal zijn voor je familie en vrienden, voor allerlei gelegenheden!
---
Voel je een echte artiest met deze prachtige bloemenstempels, die je op diverse manieren kunt gebruiken. Het zijn Two-stepstempels, met een artistieke look, en prachtige, positieve, blije teksten in een lekker "los"lettertype!
Bij deze set is ook een bijpassende set Dies verkrijgbaar:
De set is onderdeel van de Garden Impressions Suite, te vinden in je jaarcatalogus op bladzijde 128 ev.
---
Teksten voor alle gelegenheden, het hele jaar rond! Eigenlijk onmisbaar in je collectie. Veel teksten (32!) verdeeld over twee doosjes. Veelzijdig bruikbaar en ook onderling ideaal te combineren, en veelal uit te ponsen met de Classic Labelpons, en vele anderen! Kortom, een echte "Must Have"!
---
Een prachtige en tijdloze stempelset, met bomen, bladeren, natuur en prachtige liefdevolle teksten, voor kaarten, geschenkjes en andere projecten, die uit het hart gemaakt, gegeven en gestuurd worden.. Een grote stempelset, verdeeld over twee doosjes, waar je nooit genoeg van krijgt.
Hierbij past de geweldige diesset Natures Root. Hiermee stans je diverse stempelafdrukken uit, maar ook zitten er een aantal embossingdies bij.
Stempels en dies zijn ook samen als BUNDEL te bestellen, wat een bundelvoordeel oplevert van 10 procent.
De Puur Natuurbundel is onderdeel van de Natures Poem Suite. Hierin vind je ook bijpassende embellishments, cardstock, designer Series Paper en meer. Deze Suite is te vinden in de jaarcatalogus op bladzijde 142 ev.
---
De Nederlandse versie van de set Beautiful Bouquet. Prachtige bloemstempels waarmee je diverse boeketten kunt samenstellen met "bloemrijke" teksten voor allerlei gelegenheden, die daar perfect bij passen. Vriendschap, huwelijk, samenwonen, huwelijksjubilea, verjaardag, dankewel.... etc!
Photopolymere, 37 stempels, 145072, 33 euro
Bij deze set zijn ook bijpassende dies verkrijgbaar. Maak met de verschillende onderdelen schitterende boeketten!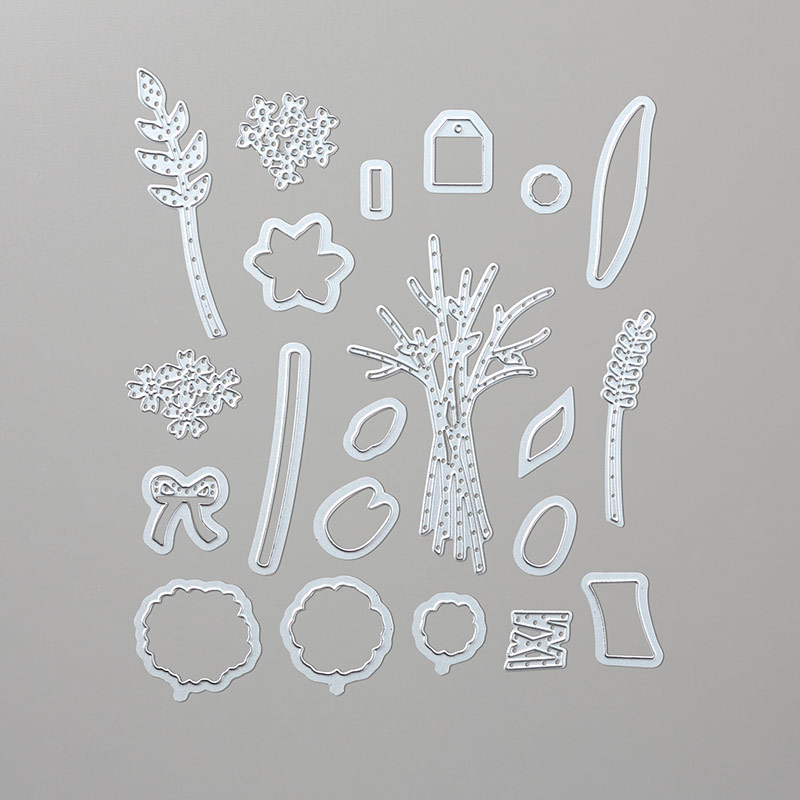 Bouquet Bunch Framelits, 143659, 36 euro
Op de speciale mijlpaal-momenten in het leven is het heerlijk om een handgestempeld kaartje of kado te maken EN te ontvangen. Liefde, Huwelijk, Vriendschap, Baby, Zwangerschap en meer! De teksten zijn gemaakt om onderling te combineren... en bij deze Nederlandse versie kan dit op diverse manieren, wat de set nog bruikbaarder maakt dan de oorspronkelijke engelstalige versie! Maar ook los van elkaar zijn de teksten perfect te gebruiken!
---
Deze veelzijdige set is ideaal voor verjaardagen, huwelijken en andere feestelijkheden. Maar kijk ook iets verder dan de taart en zie de mooie bloemen en de teksten die je ook voor andere momenten kunt gebruiken. Een prachtige stijlvolle set, die veel creatieve mogelijkheden biedt!
Bij deze stempelset zijn ook bijpassende Dies te bestellen. Hiermee stans je de taarten, taartstandaards, bloemen , een prachtig label en allerlei decoraties uit.
Sweet Cake Framelits Dies, 145617, 40 euro
---
Een prachtige artistieke set, ideaal geschikt voor watercolor- en andere technieken, en met de allerschattigste teksten in een fantastisch handletteringstijl.
Bij deze set zijn ook bijpassende dies te bestellen. Hiermee stans je diverse stempelafdrukken uit, maar ook diverse bijpassende extra's!
---
Met deze prachtige modern gestyleerde silhouette stempels kun je op stijlvolle manier het kerstverhaal gestalte geven. Ideaal te combineren met technieken of juist voor heel moderne strakke en stijlvolle projecten. De teksten zijn klassiek en tijdloos.
Er zijn ook bijpassende dies, stel hiermee een compleet kersttafereel samen, al dan niet met 3 d effect.
---
Woorden zijn krachtig en kies je dan ook zorgvuldig. In deze set vind je mooie teksten voor diverse gelegenheden, met daarbij prachtige en sierlijke sierstempels. Een ideale set die eindeloos te combineren is en niet verveelt.
Bij deze set is een schitterende bijpassende set dies verkrijgbaar. Sierlijke swirls en bloemen, prachtig uitgewerkt, altijd goed!
---
Een zeer "verwelkomende" set, die het hele jaar door te gebruiken is. Alle feestdagen, iemand welkom heten, uitnodigen, terug uit het ziekenhuis, jarig, gastvrijheid, kerst, vriendschap, zomaar... Kortom alle gelegenheden waarbij je de deur voor mensen openzet kun je met deze set stempelend vieren! De deur kun je steeds anders aankleden met alle bijpassende extra's!
Hierbij zijn verrassende bijpassende dies verkrijgbaar. Je kunt hiermee de decoraties uitstansen, maar ook kun je de deur openslaand maken, zodat je ook aan de binnenkant hiervan nog als verrassende factor iets kunt stempelen of schrijven.
---
Kies uit maar liefst 53 stempels degenen die je combineert om je project compleet te maken. Kleine bruikbare hippe stempels, supergeschikt voor planners, agenda's, bujo's, art journals en kalenders, maar ook voor kaartjes, kadootjes en andere projecten heel geschikt.
En wat dacht je van Memorykeeping, project live en scrapbooken?
Bij deze stempels past perfect de Circle Tab Pons. Hiermee maak je moeiteloos tabjes, waar je met de stempels moeiteloos een afbeelding of tekst aanbrengt.
Een prachtige set, in het teken van een sneeuwstorm en het contrast met de warmte in huis. Bedoeld voor kerst maar ook voor nieuwjaar, een goede vriend, een geliefde, Sinterklaas en meer! Met de grungy stempels maak je prachtige achtergronden, met de sneeuwvlokken maak je het geheel winters.
Speciaal bij deze stempels hoort de Blizzards Thinlits Die. Met deze die stans je in een keer een hele berg prachtige sneeuwvlokken uit, maar ook houd je er een prachtige achtergrond aan over als je deze die op je papier legt en stanst! Hij is kaartgroot!
Maak tijdloze en natuurlijke kerstprojecten met deze fantastische en veelzijdige set! De teksten zijn speels en modern, en toch echt "kerstig"
Bij deze stempelset is ook een erg mooie PONS verkrijgbaar, waarmee het thema van de set versterkt kan worden door mooie takjes. Een zeer veelzijdige pons, die ook perfect samengaat met andere sets en ook na de kerst nog heel erg bruikbaar is!