Zo ongemerkt is er een week voorbij gevlogen waarin ik niet heb geblogd... Vier workshops, een teamdag en een grote opdracht waren allemaal in die ene week gepropt, waardoor ik even de handjes vol had, dus vandaar! Maar gestempeld is er, en hoe!
Als ik alle foto's bij elkaar verzameld heb komt er natuurlijk nog een verslagje van de teamdag, de swaps en het workshopje dat ik voor die dag had voorbereid. Het was een geweldige dag en we hebben volop genoten.
Sinds vandaag lijkt het weer dan toch een keer om te slaan. De herfst kijkt al een poosje om de hoek maar durft nu dan toch eindelijk binnen te komen ;o)
Daarom vandaag dit herfstige kaartje! Ik maakte het in de Split Panel techniek.
Herfstige kaarten, ik houd er van! Het jaargetijde vind ik gewoon heel erg mooi, ik houd van de warme bruine, rode, oranjige, paarsige en gelige tinten die je in deze tijd veel in de natuur ziet.
Ik ben nu eenmaal dol op deze kleuren!
En ze doen het ook op kaarten heel mooi!
Het geeft de creaties meteen een bepaalde rustgevende, warme, stemmige sfeer. Daarom is zo'n kaart heel geschikt om iemand te laten weten dat je aan ze denkt, of om iemand beterschap of sterkte te wensen.
Voor deze kaart gebruikte ik de nieuwe stempelset Winter Woods, en de bijpassende n The Wods Framelits. Deze set is helemaal gebaseerd op winterse en herfstige bomen. Werkelijk een beeldschone bundel, en zeker een van mijn favorieten uit de Herfst-wintercatalogus. Dit is echt zo'n set die ik over vele jaren nog steeds gebruik!
Vind je die ragfijn uitgewerkte boomstempel met de bijpassende boomdie niet prachtig! In de framelits set zitten trouwens nog een paar heel bijzondere dies... Daarover zal ik binnenkort meer vertellen!
Deze set is uitermate geschikt om met allerlei technieken te combineren, maar ook in alle eenvoud geweldig mooi! En natuurlijk is de set geweldig te combineren met andere stempelsets! Zoals bijvoorbeeld Puur Natuur!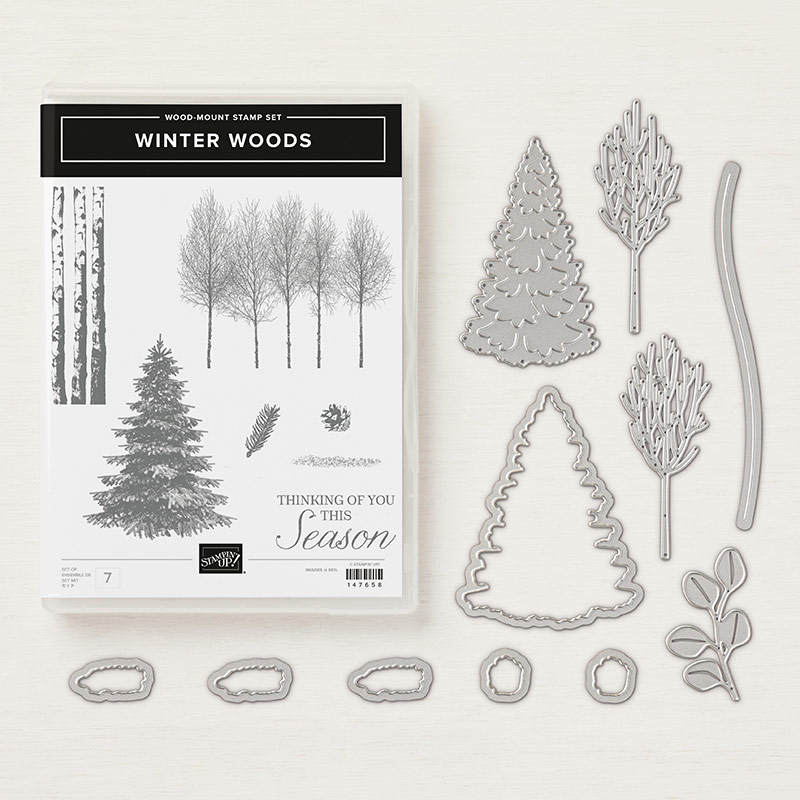 De stempels en dies kun je samen ook als bundle bestellen. Dit levert een bundelkorting op van 10 procent!
De mooie kleuren in het paneel kreeg ik door Cajun Craze, Pumpkin Pie, Early Espresso en Frsh Fig met elkaar te combineren. De bomen stante ik uit een stukje Rich Razzleberry
Dit kaartje, en de technieken die er bij horen, hebben we pas behandeld bij een workshop van de
Kijkkast StempelWorkshop Club
. Elke maand doen we iets verrassends en deze techniek sloeg in als een bom ;o) De workshopdames hebben enorm genoten en waren intens tevreden over hun resultaat! Ze leren zo elke keer weer nieuwe mogelijkheden of technieken, voor een lage prijs, en ongemerkt sparen de leden ook heel voordelig hun stempelmaterialen mooi bij elkaar.
Mocht je interesse hebben om je bij onze supergave EN gezellige StempelWorkshopClub aan te sluiten, dan kan dat! In de groep die op woensdagmorgen workshop heeft zijn nog enkele plekjes vrij, maar ook als je op een ander dagdeel wilt kun je dat aangeven. Er liggen al meer aanvragen en zodra er op een dagdeel minimaal drie gegadigden zijn start er een nieuwe clubgroep. Dit kan dus op de ochtend, de middag of de avond. Je leest
*hier
* alle informatie over de Club!
Zo, dit was mijn herfstige kaartje van de dag. Ben benieuwd of jullie ook zo van herfstkleuren houden!
Morgen maar eens een vestje aan trekken, want korte mouwen worden met nu toch net iets te fris hoor!
Wat heb ik gebruikt:
Stempels: Winter Woods
Papier: Cardstock: Very Vanilla Thick, Very Vanilla, Pumpkin Pie, Rich Razzleberry
Inkt: Cajun Craze, Pumpkin Pie, Early Espresso, Fresh Fig
Dies: In the Woods Framelits Dies
Tools: Stampin' Sponges, Stampin'Trimmer, Big Shot, Die Brush
Tot snel!
Annette
Eerstvolgende (mee)besteldagen:
Maandag 22 oktober om 19.00 uur
Maandag 29 oktober om 19.00 uur
en spaar voor gratis producten!
***Met diverse Clubvoordelen ;o)***
Wil jij graag de nieuwe
! catalogus ontvangen??
Vraag er eenvoudig eentje aan door mij een EMAIL te sturen