Hai! Op deze gezellige eerste zondag van maart laten wij, een paar leden van ons team Inky Bizz, weer wat projecten zien met de Sale-A Brationproducten!
Deze keer heb ik de smaeklijke stempelset Hello Cupcake uitgekozen. Een ontzettend gezellige stempelset waat je zo heerlijk mee kunt experimenteren!
Cupcakes zijn op zich al superschattig en ik kan me eigenlijk haast niet voorstellen dat iemand daar anders over denkt ;o) Zoet, rond, met een vrolijke toef, en gezellig versierd. Klaar om een hap uit te nemen!
En ook al is die cupcake van papier en inkt, dan nog kun je er heerlijk creatief mee doen, en hem opleuken met versiersels, laagjes, glimmertjes, strikjes, hoogteverschillen enzovoorts! Superleuk om te doen!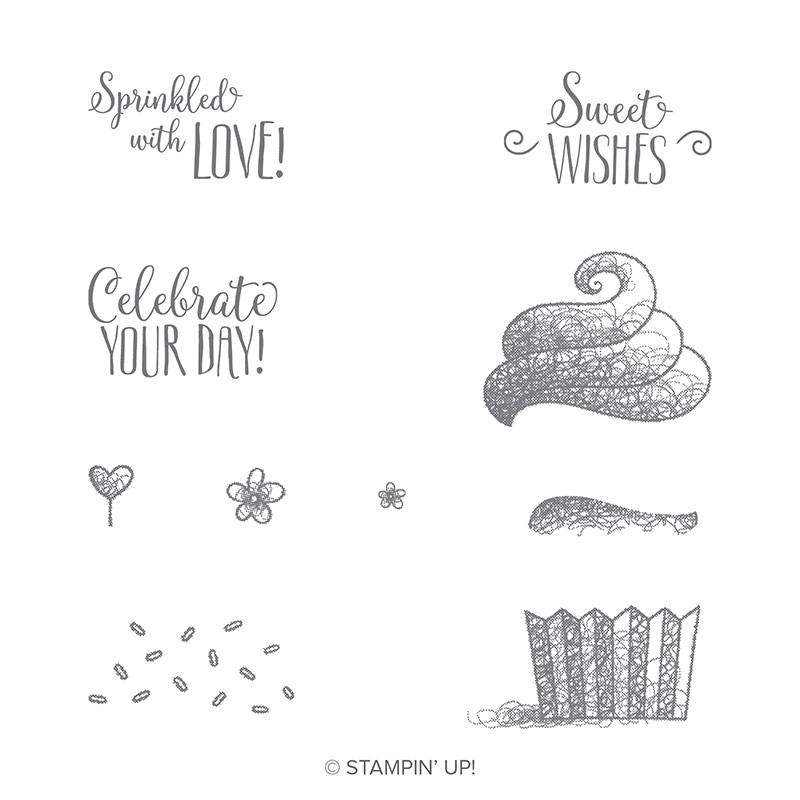 Deze leuke stempelset is als gratis Sale-A-Brationkado uit te kiezen bij een bestelling van minimaal 60 euro!
En er zitten leuke toepasselijke teksten bij en kleine elementjes om de cupcake verder "op te leuken". Hier heb ik het hartvormige stekertje nog net iets specialer gemaakt door er een Heart Epoxy Droplet op te plakken. Dat past precies!
Leuk he? ;o) Het werkt zo fijn als dingen bij elkaar passen!
En wat nog leuker is, en de stempelsset nog aantrekkelijker en veelzijdiger maakt....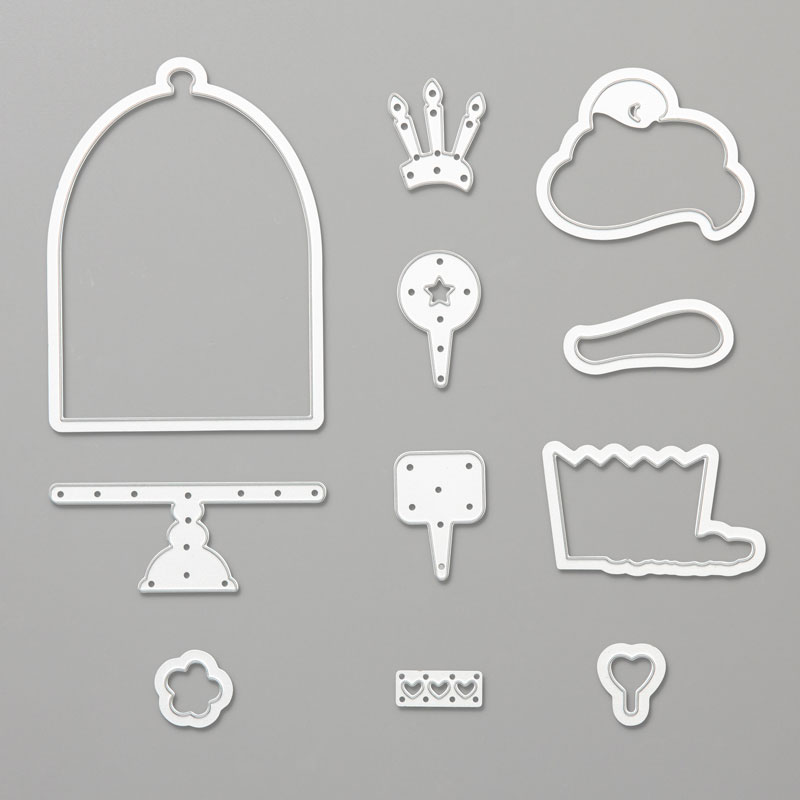 ("Call me Cupcake Framelits dies" 150072 33 euro)
... zijn de bijpassende Call Me Cupcake Framelits Dies! Deze zijn onderdeel van een speciale serie producten die alleen deze maand te bestellen is. De Sale-A-Bration Coordination Producten!! Deze producten passen, het woord "coordination" zegt het al, perfect bij een aantal van de Sale-A-Brationproducten!
Let op: Ze zijn slechts verkrijgbaar zolang de voorraad strekt!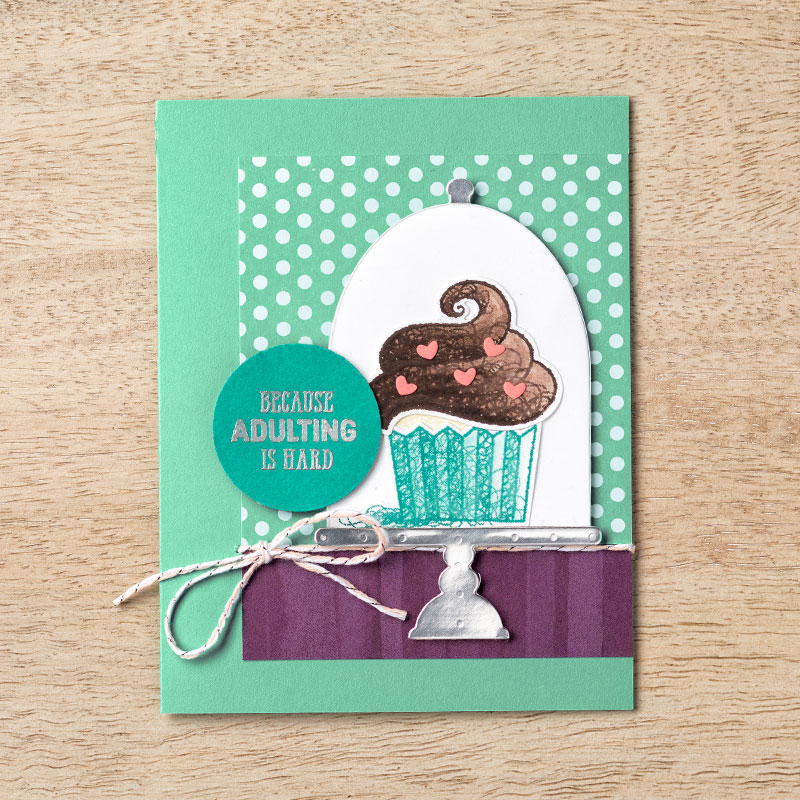 Persoonlijk ben ik helemaal WEG van het geweldige taartstolpje dat bij deze set zit! Echt te schattig toch!!
Maar zo zijn er dus nog meer van dit soort speciale producten die de Sale-A-Brationproducten NOG leuker maken! Als je nog eens al die speciale Sale-A-Bration Coordination producten wilt bekijken, kun je ze
> >HIER<
allemaal bij elkaar zien!
De set is eigenlijk met van alles te combineren. Zoals hier, heel simpel, met het Gingham Gala DSP
De Cupcake kwam op een paneeltje dat ik uitstanste met de Rectangle Stiched Framelits! Dit plakte ik iets verhoogd op. Het kleine strikje staat er superlief op!
Een Pearlized Doily, wat uitgeponste labels en wat Basic Adhesive Backed Sequins onder en naast het paneeltje zorgen voor wat extra aankleding.
Deze prachtige Doilies zijn trouwens OOK als Gratis Sale-Brationkado uit te kiezen! Sinds begin maart is de derde release van Sale-A-Brationproducten verschenen. Aan de rechterkant van dit blog zie je de links naar alle drie Sale-A-Bration releases! Wat is er toch veel keus!
En KLAAR is mijn makkelijke, zoete, calorieloze taartje-kaartje!
Mocht je deze gave stempelset, en/of de diesset graag ook willen hebben, dan kan dat nog. Ze zijn alleen deze maand nog beschikbaar zolang de voorraad strekt. Heb je geen van beiden zou je de dies kunnen bestellen, er bijvoorbeeld wat inkt en papier of lint er bij doen, en dan, als je aan de 60 euro komt, de SAB-stempelset Hello Cupcake er gratis bij bestellen! Kan ik je helpen bij het samenstellen van een mooie set hoor ik dat graag. Ik help je met alle plezier om een zinvolle en buikbare combinatie te maken waar je lekker mee aan de slag kunt!!
Mocht je willen meebestellen met onze wekelijkse gezamelijke bestelling (elke maandagavond om 19.00 uur) dan kan dat natuurlijk ook. Zo bespaar je verzendkosten uit!
Wil je nog meer Sale-A-Brationideetjes zien? Kijk dan ook eens bij mijn teamgenootjes
Hier onder vind je nog een lijstje met alle gebruikte materialen!! Heb je vragen over dit projectje of over de producten ben je van harte welkom met je vragen.
Zo, dan ga ik nu lekker weer een poosje stempelen, er liggen een paar spulletjes klaar waar ik fijn mee aan de slag ga vandaag!
Wat heb ik gebruikt:
Stempels: Hello Cupcake (SAB)
Papier: Cardstock: Whisper White, Thick Whisper White, Grapefruit Grove
DSP: Gingham Gala DSP
Inkt: Grapefruit Grove, SOft Suede
Pons: Classic Label, Grosgrain RIbbon Grapefruit Grove
Embellishments: Basic Adhesive Backed Sequins, Pearlized Doilies, Heart Epoxy Droplets
Tot snel!
Annette
Eerstvolgende (mee)besteldagen:
Maandag 26 februari om 19.00 uur
en spaar voor gratis producten!
***Met diverse Clubvoordelen ;o)***
Wil jij graag de
jaarcatalogus en/of de NIEUWE voorjaarscatalogus ontvangen??
Vraag er eenvoudig eentje aan door mij een EMAIL te sturen
Of doe een bestelling, dan voeg ik hem er gratis bij!
Ben je ook dol op stempelen, houd je van korting en zou je wel bij het gezelligste team van Nederland willen horen?
Kom er bij!
( en kies als je dat wilt de Exclusieve TOTE bij je Startpakket!)