Hai! Op deze frisse maar zonnige zondag laten wij, enkele teamgenootjes van team Inky Bizz, je graag wat ideetjes zien met die fantastische Sale-A-Brationproducten. Wie weet zie je een set of product welke je over het hoofd had gezien, of doe je inspiratie op om er meer mee te doen in het geval je hem al hebt!
Tijdens de Sale-A-Bration ( tot eind maart!) kun je bij een bestelling vanaf 60 euro al een kado uitkiezen uit de speciale folder(s) die we daarvoor hebben. De set die ik vandaag laat zien is dus niet te koop, alleen
gratis
uit te kiezen ;o)
Ik maakte voor vandaag deze kaart met de set Home to Roost! En ik maakte er zoals je ziet een wat landelijk getint kaartje van!
De prachtige haan uit de set stempelde ik op Sahara Sand Cardstock, en kleurde ik in met de Watercolor Pencils. Met de Aqua Painters liet ik de kleuren een beetje uitvloeien.
Als je heel goed kijkt zie je ook dat ik in de achtergrond heel lichtjes de bossage/grasjesstempel uit de set heb afgedrukt.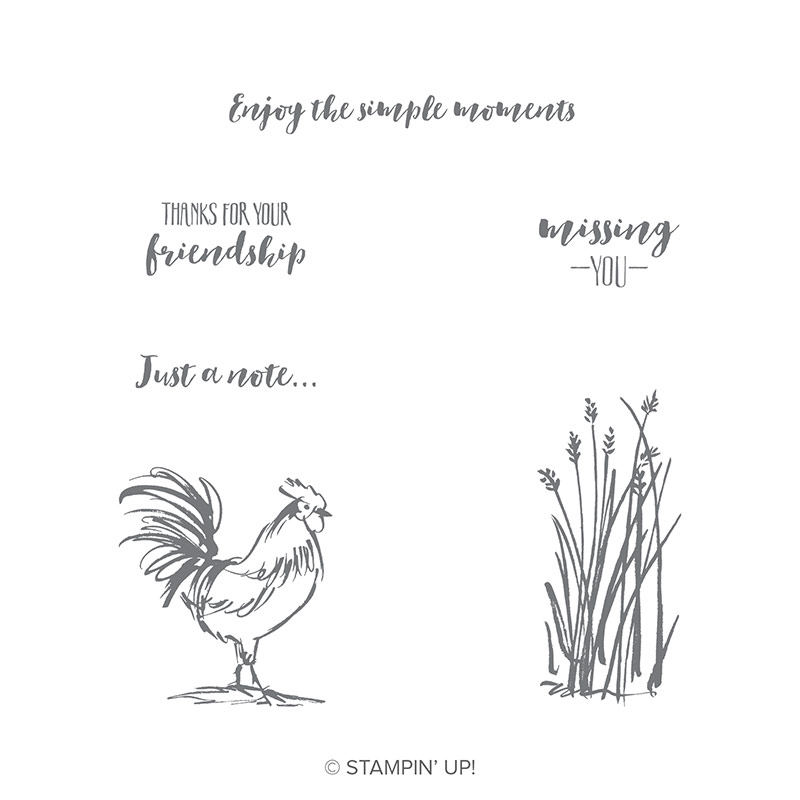 Home to Roost is een stempelset met een rustieke uitstraling, door de losjes getekende afbeeldingen, en natuurlijk door het onderwerp ervan. Ook zitten er zeer bruikbare teksten bij in een erg mooi lettertype. Hierdoor is dit een heel mooie en tijdloze set voor mannenkaarten, beterschapskaarten, goed nieuwskaarten en noem maar op! Eigenlijk altijd goed! Een goede keus dus, als je een gratis kado mag uitkiezen wanneer je voor 60 euro of meer hebt besteld.
Ik stanste de haan en het frame uit met de Rectangle Stitched Framelits. Sinds ik die in mijn bezit heb is het moeilijk een kaartje te maken zonder deze geweldige dies. Ze zijn zo veelzijdig! Alle randjes bewerkte ik een beetje met inkt.
Ook zit er een laagje DSP onder. Dit komt uit het Needlepoint Nook DSP... en past mooi bij het "landelijke gevoel"van de kaart!
Als onderste laagje gebruikte ik een van de nieuwe Embossingfolders Dot to Dot. Na het aanbrengen van de structuur ging ik er licht over heen met een beinkte Stampin'Sponge.
Met wat Very Vanilla Bakers Twine en een Galvanized Button zorgde ik voor een klein detail wat het net afmaakt.
Volop structuur en laagjes, zonder dat de kaart erg dik of zwaar is geworden. Het geeft het wel een heel mooi luxe gevoel vind ik altijd!
En voila, een kaartje dat eigenlijk voor allerlei gelegenheden en personen te gebruiken is! Makkelijk in gebruik en een gaaf onderwerp op je kaartjes!
Mocht je zin hebben in meer inspiratie, kijk dan ook eens bij mijn teamgenootjes
Wat heb ik gebruikt:
Stempels: Home to Roost (SAB)
Papier: Cardstock: Sahara Sand, Early Espresso
DSP: Needlepoint Nook
inkt: Stazon Black, Early Espresso
Inkleuren: Watercolor Pencils
Embossingfolder: Dot to Dot
Pons: Classic Label
Dies: Rectangle Stitched Framelits dies
Embellishments: Very Vanilla Bakers Twine, Galvanized Buttons
Tools: Stampin'Sponges, Aqua Painters, Big Shot
Tot snel!
Annette
Eerstvolgende (mee)besteldagen:
Maandag 26 februari om 19.00 uur
en spaar voor gratis producten!
***Met diverse Clubvoordelen ;o)***
Wil jij graag de
jaarcatalogus en/of de NIEUWE voorjaarscatalogus ontvangen??
Vraag er eenvoudig eentje aan door mij een EMAIL te sturen
Of doe een bestelling, dan voeg ik hem er gratis bij!
Ben je ook dol op stempelen, houd je van korting en zou je wel bij het gezelligste team van Nederland willen horen?
Kom er bij!
( en kies als je dat wilt de Exclusieve TOTE bij je Startpakket!)