Soms kan ik zomaar zo blij zijn, gewoon omdat ik weet dat ik bof, omdat ik me bevoorrecht voel, omdat ik mag doen wat ik zo ontzettend graag doe, omdat ons gezin gezond is, ik een heleboel lieverds om me heen heb, ik tevreden ben met wat er is en kan genieten van kleine dingen.
En ik denk dat juist door je zo te voelen je ook de minder leuke dingen van het leven makkelijker aan kunt. Niet dat alles perfect is hoor, maar ik sta gewoon positief in het leven en dat is gewoon voor mij een vorm van wat ik geluk noem.
Daarom stuur ik ook graag bemoedigende en positieve kaartjes. Positief in de zin van opbouwend, en natuurlijk niet om verdrietige dingen te ontkennen, want die zijn er nu eenmaal ook. Maar ook bij narigheid en verdriet bepaalt de manier waarop je naar de wereld kijkt een aanzienlijk deel van je welbevinden.
Tsjoh, word ik zomaar filosofisch op een doodgewone dinsdagavond;o)
Maar goed, de reden waarom ik dit schrijf is omdat je met een kaartje iemand ook een klein geluksmomentje kunt bezorgen.
En dat kunnen doen geeft aan jezelf ook een fijn gevoel!
Vandaag laat ik jullie een kaartje zien wat uitlegt wat ik bedoel. Ik heb bovendien weer eens lekker met inkt gespeeld dus was dit een mooi kaartje voor een D-INKT!-sdagbijdrage!
De gebruikte afbeelding en tekst komen uit een prachtige nieuwe stempelset uit de nieuwe jaarcatalogus, een set die de geweldige naam "ENJOY LIFE" heeft gekregen. Helemaal passend dus bij een bemoedigend en positief kaartje! Een uitgebreide set met maar liefst 15 prachtige en prima combineerbare kwaliteitsstempels, voor een heel betaalbare prijs, 30 euro.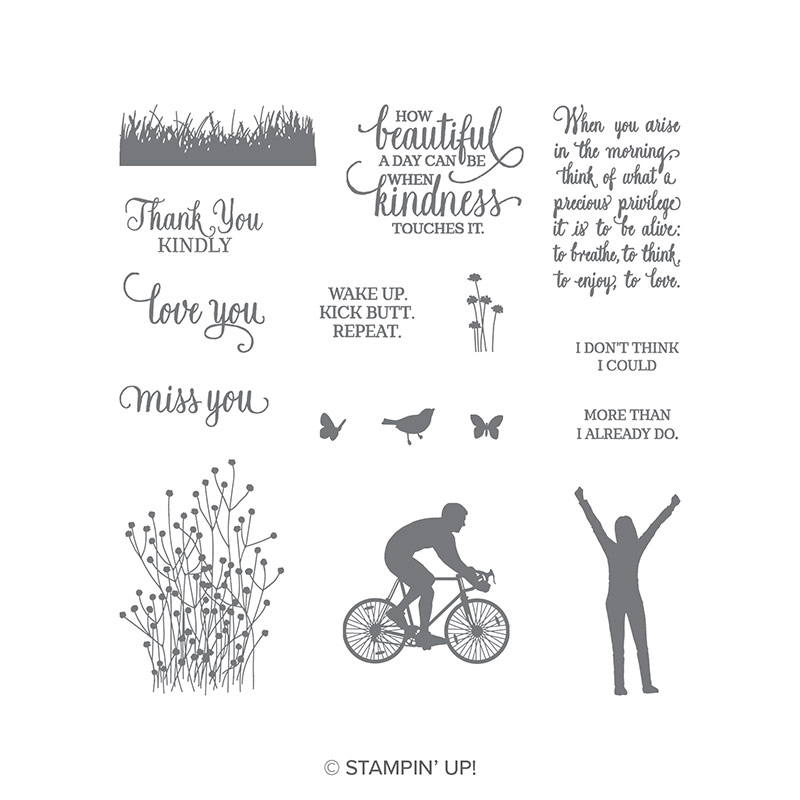 De achtergrond maakte ik met de Clearblocktechniek. Hiervoor gebruikte ik Stampin'Write Markers in drie kleurtjes: Gorgeous Grape, So Saffron, en Balmy Blue!
Ik gebruik ze heel graag, deze veelzijdige Stampin'Write Markers, en had ze natuurlijk al een poosje compleet in alle kleurtjes! Gelukkig heeft StampinÚp! ivm de Color Revamp een speciale set gemaakt met alleen de nieuwe kleurtjes, dus daarmee kon ik mooi mijn verzameling weer compleet en up to date maken, zonder alle sets opnieuw te hoeven kopen. Ideaal dus als je al sets hebt van de kleurenfamilies of de grote markerset met alle kleuren (daarvoor zit bij deze nieuwe-kleuren-set zelfs een nieuwe kleurenkaart die je in je houder kunt schuiven!).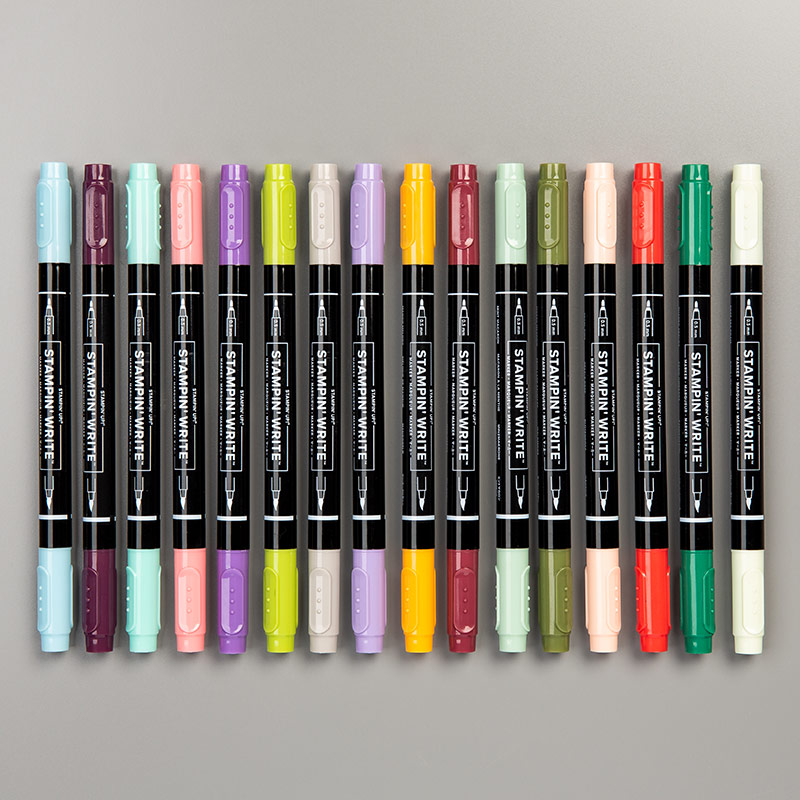 Zo'n aanvulset is er trouwens ook van alle nieuwe kleuren inkten. Ideaal!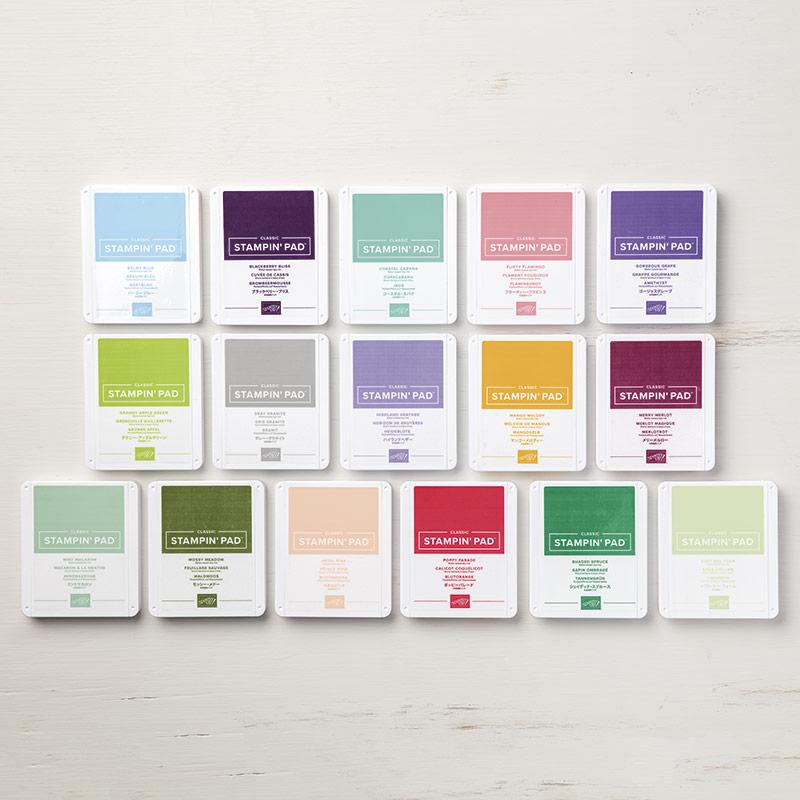 En ze hebben zelfs een mooi assortipakket gemaakt met alle nieuwe kleuren cardstock er in! Ideaal om zo niet in een keer van alles meteen een heel pak te hoeven kopen.
Maar dat terzijde ;o)
Door de indeling is de kaart kleurrijk en tegelijkertijd rustig. Zo komen de silhouettestempel en te tekst mooi tot hun recht!
Geel en paars liggen tegenover elkaar in de kleurencirkel, en dat noemen we dan ook tegengestelde kleuren. Dat maakt dat ze elkaar prachtig versterken. Ik vind het een prachtige combinatie!
Om het meisje van de afbeelding niet in het niets te laten "zweven"heb ik onder de voeten nog even een simpele schaduw aangebracht met de Aqua Painters en inkt.
Het bestempelde paneeltje heb ik eenvoudig gemat op So Saffron Cardstock, en daarna op een Gorgeous Grape basiskaart geplakt waar ik eerst nog even een stukje Basic Black Bakerstwine omheen gewikkeld had. Net even dat zwarte accentje dat het compleet maakt.
En zo heb je eigenlijk heel snel een veelzeggend en vrolijk kaartje gemaakt! Ik verheug me er nu al op hem te posten!
Wat heb ik gebruikt:
Stempels: Enjoy Life
Papier: Cardstock: Gorgeous Grape, So Saffron, Shimmery White
Inkt: Memento Black
Stampin'Write Markers: Gosgeous Grape, Balmy Blue, So Saffron
Embellishments: Basic Black Bakers Twine
Tools: Aqua Painters, Stampin'Spritzers, Heat Tool.
Tot snel!
Annette
Eerstvolgende (mee-)besteldagen:
Maandag 11 juni
om 19.00 uur
Maandag 18 juni juni om 19.00 uur
en spaar voor gratis producten!
***Met diverse Clubvoordelen ;o)***
Wil jij graag de nieuwe
! catalogus ontvangen??
Vraag er eenvoudig eentje aan door mij een EMAIL te sturen
Houd je ook zo van stempelen, spelen met inkt en kleur en wil je bij elke bestelling korting op je stempelmaterialen??
Klik hier voor meer info!
Team Inky Bizz heet je van harte welkom
!