Kleine kerstkaartjes maken, is altijd een leuk klusje om eventussendoor te doen. ;o) Zeker met mooie kleurtjes! Gaaf toch dat warme donkergeel (Delightful Dijon) met het crispy Basic Black! Uitgangspunt was hierbij het leuke ruitjespapier van de set Warmth & Cheer. Ik denk dat dit mijn meest gebruikte DSP is uit de herfst-wintercatalogus! Het doet me denken aan warme wollen plaids, een haardvuur, zelfgebreide wollen truien, dikke wollen pantoffels, chocolademelk en een superknusse kerst! Nostalgisch dus maar door de kleuren toch hip!
Ook voor dit kaartje heb ik de Holly Berrystempelset en PONS gebruikt. De Pons is nog steeds afgeprijsd in de Online Extravaganzaactie! Wat een cutie is dat toch! Hier heb ik de blaadjes/hollies gestempeld in Delightful Dijon en de besjes/berries geponsd uit een stukje glimmer paper in een mooie goudkleur. dat is nu NET dat kleine glimmertje dat het afmaakt.
De tekst is gestempeld met Versamark Inkt en met behulp van Whisper White Embossingpoeder en de Heattool krijg je dan een mooi helder wit resultaat. Lekker fris! De tekststempel komt trouwens uit de set Stitched with Cheer (momenteel OOK in de aanbieding!) , en dit is hier ook een favorietje dit jaar. De stempels passen perfect bij de Holly Berry Builder Pons maar door het "stitched"thema ook bij het gave DSP van vandaag. Lekker kneuterig en nostalgisch, ik houd daar wel van hoor!
Al met al weer een lief mini-kerstkaartje, eenvoudig, simpel, en met weinig materialen gemaakt, maar toch met de nodige details.
Mijn stapel kerstkaarten groeit maar ik heb er nog niet genoeg. En laat ik dat nu helemaal niet erg vinden? Ik heb nog VOLOP ideetjes waar ik graag wat mee wil doen! Voor vandaag heb ik dan ook een lekker kerstkaartenstempelmiddagje ingepland. ;o) Ik ga snel aan de slag!
Wat heb ik gebruikt:
Stempels: Hollyberry Happiness, Stitched with Cheer
Papier: Cardstock: Delightful Dijon, Basic Black, Whisper White
DSP: Warmth & Cheer
Glimmer Paper Gold
Pons: Holly Berry Builder Punch
En verder: Snail Adhesive, Glue Dots, Multi Purpose Liquid Glue
tot snel!
Annette
Van 21 tot en met 28 november grote uitverkoopactie! Weekaanbiedingen en dagaanbiedingen. Je vindt ze
HIER!
allemaal op een rij!
Alleen in November: 25 procent korting op geselecteerde Stempelsets!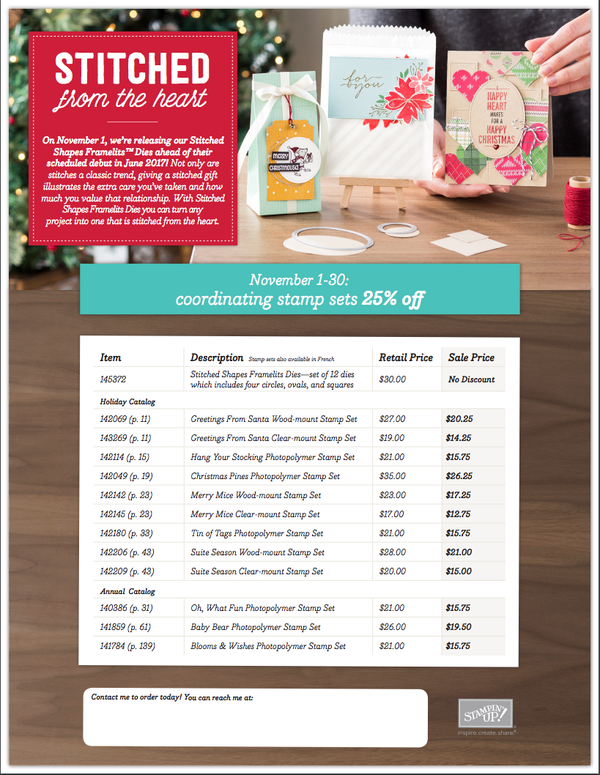 en spaar voor gratis producten!
***Met diverse Clubvoordelen ;o)***
*
Eerstvolgende (mee-)besteldagen:
In verband met de Extravaganza Actieperiode gelden aangepaste momenten:
Zondag 27 november om 20.00 uur
Zou je graag ons nieuwe teamlid worden?
Het is nu een ideale tijd om in te stappen als demo!
Ik vertel je graag waarom, dus neem gerust contact op als je meer wilt weten!
voor info kijk je ook
HIER