Aloha! Leuk dat je komt kijken bij deze bloghop van een aantal Nederlandse demonstratrices!! Deze Aloha-groep is een groep enthousiaste nederlandse demonstratrices die is uitgenodigd om te gaan werken om de fantastische Incentive Trip naar Maui in 2020 te bereiken. We vonden het leuk om samen ook een Bloghop te doen! Nu is dit jaar voor mij iets anders gelopen en heb ik mijn prioriteiten aan mijn priveleven, mijn familie, gegeven maar dat is helemaal oke!
Deze maand is het onderwerp voor onze bloghop DIERENLIEFDE! Nu hebben wij zelf een schat van een rode kater, onze driebenige bandiet Kody, en eigenlijk vind ik allerlei dieren leuk, maar eigenwijs als ik (soms, ahum) ben besloot ik voor een dier te gaan dat niet meer op aarde ronddartelt...
De Dinosaurus! Nu vind ik lang niet alle dinosaurussen schattig of grappig, maar deze, uit de nieuwe set Dino Days, vind ik echt superkjoet!
Ik maakte er een heel eenvoudig kaartje mee. Leuke kleurtjes en gaaf designpapier maken er al snel een kloppend geheel van!
Er zijn leuke dies bij de set waarmee je leuke structuurtjes kunt maken. In de dieren zelf, of zoals ik hier heb gedaan, in de kaart! Zie je die leuke openingetjes?
De set heeft daar diverse gave dies voor, naast de dies om de dieren zelf uit te stansen.
Stempels en dies zijn samen als bundel te bestellen, met uiteraard tien procent bundelkorting!
Ik houd er van om grapjes uit te halen met kaartvormen en flapjes ed, en dat heb ik op dit kaartje dan ook weer gedaan. De voorflap van de kaart gaat zo open!
En natuurlijk is er ook aan de binnenkant gestempeld. De teksten vind ik ook helemaal leuk trouwens. Ze zijn voor enorm veel gelegenheden geschikt, en lekker vrolijk en positief!
Gewoonlijk vind ik papier met uitgesproken motieven soms lastiger te verwerken, maar bij dit papier heb ik daar totaal geen last van! Ik heb al diverse kaarten en kadoosjes gemaakt inmiddels, en alhoewel alle papiertjes bij elkaar passen, zijn ze toch lekker verschillend!
Dat maakt het Dinoroar DSP heel erg leuk en makkelijk te gebruiken. Veelzijdig ook, want ik maakte hier zowel een kaartje voor een jarige (volwassen) vriend, als een kadoosje voor een 5-jarig buurmeisje mee. Natuurlijk zal ik die ook nog laten zien!
Er zijn al eerder sets geweest met dinootjes, maar ik ben nog niet eerder zo verliefd geweest op een set waarin deze historische dieren voorbij kwamen. Ze zijn gewoon ontzettend grappig, het design is super en de bijbehorende dies maken dat je er heerlijk creatief mee kunt zijn! Daarbij ook op een leuke manier ontworpen, waardoor ze een leuke watercolorachtige look hebben. Dit zijn dan ook "DISTINKTIVE" stempels, stempels met speciale effecten!
Er is rond deze leukerds een hele Suite samengesteld!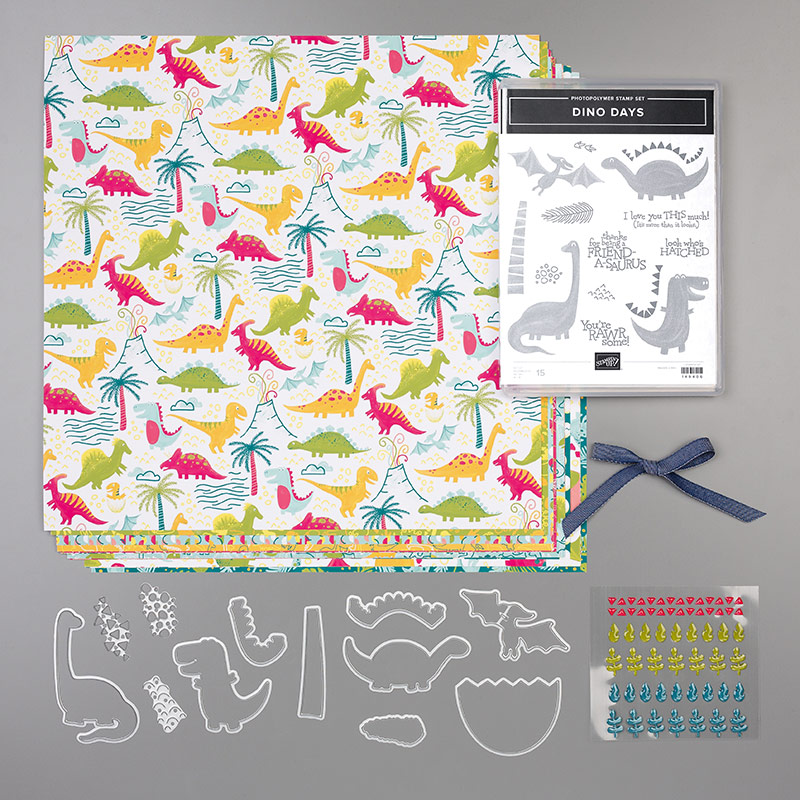 Naast de bundle van Stempels en dies, en het Designer Series Paper, horen er ook superleuk jeanslint bij de Suite, en gave enamel vormpjes. Alles is natuurlijk ook weer leuk te mixen en matchen met andere stempels en producten.
Je creatieve mogelijkheden zijn natuurlijk eindeloos!
In mijn hoofd zitten bijvoorbeeld nog plannetjes voor babykaartjes, verhuiskaartjes en beterschapskaartjes met deze set... En zoals mijn workshopgasten vorige week zeiden: Deze set is echt niet alleen voor kinderen, je kunt er alle kanten mee op!
Wil je inspiratie en tips opdoen in een thema workshop met bijvoorbeeld deze bundle? Ik verzorg het graag voor je!
Zo, dat was mijn kaartje voor vandaag, binnenkort volgen meer dino-voorbeelden hoor! Mocht je vragen hebben, of als ik ergens mee kan helpen, mag je altijd even
contact
opnemen!
Nu is het tijd om even bij mijn collega's te gaan kijken. Ik ben enorm benieuwd welke dieren zij uitgekozen hebben! Jij ook? Via de namenlijst hieronder kun je ze bezoeken!
Tot snel!
Annette
Bloghopdeelnemers:
Wat heb ik gebruikt?
Stempels: Dino Days
Papier: Cardstock: Pretty Peacock, Whisper White, Pineapple Punch
DSP: Dinoroar Designer Series Paper
Inkt: Pretty Peacock, Mango Melody, Old Olive, Pineapple Punch
Dies: Dino Dies
Pons: Starburst
Tools: Big Shot, Die Brush, Bone Folder
Eerstvolgende (mee)besteldagen:
Maandag 8 juli om 19.00 uur
Maandag 15 juli om 19.00 uur
en spaar voor gratis producten!
***Met diverse Clubvoordelen ;o)***
Wil jij straks graag de NIEUWE JAARCATALOGUS
ontvangen??
Vraag er eenvoudig eentje aan door mij een EMAIL te sturen
Of doe een bestelling, dan voeg ik hem er gratis bij!