*This Blogpost is in English AND Dutch!*
Hallo daar....Welkom bij de aller-aller-eerste Tantalizing Stampers Bloghop! Hoe leuk is het om met het hele grote team Tantalizing Stampers, waar ook mijn eigen team onder valt, samen een bloghop te doen!
We kozen voor deze eerste bloghop voor het thema VOORJAAR!
Hello there! Welcome to this very first Tantalizing Stampers Bloghop! How fun is it to have a bloghop with the Tantalizing Team of which my own team is part of!
For this first bloghop we chose the theme SPRING!!
Voorjaar is voor mij de mooiste tijd van het jaar. Ik kan dan buiten zo genieten van alle knoppen die op barsten staan en vogeltjes die met strootjes heen en weer vliegen om een nestje te maken... en niet te vergeten... van de BLOEMEN die bij dit jaargetijde horen! Zo fris!
For me spring is the best time of the year! I enjoy the waking of nature so much, leaves are appearing again, birds are building their nests, and in our part of the country there are colorful fields ful of flowers! I love those colours... They are so fresh and vibrant!
Dat was dus de inspiratie voor mijn kaartje van vandaag!
So that was the inspiration for my card of today!
Frisse natuurlijke kleuren en een vleugje romantiek!
Fresh Natural Colours and a bit of romance...
Voor de bloemencompositie gebruikte ik de stempelset First Frost. Prachtige bloemen met watercoloreffect. Maar dat effect zit in de afdruk hoor, ik heb er buiten het stempelen niets waterigs mee gedaan.
For the floral composition I used the stampset First Frost. Beautiful flowers with a watercolour effect! That effect is all in the design of the stamps. I did not use any water at all!
Ik stempelde gewoon een heleboel bloemen en takjes, stanste ze uit met de Frosted Bouquet Framelits en maakte er een leuke toef van!
I stamped a number of different flowers, diecut them with the Frosted Bouquet Framelits and made it into a nice composition.
Het leuke labelstansje zat ook bij deze framelits, maar de tekst heb ik uit de set Detailed With Love gehaald. Ik wist nog niet waarvoor of voor wie ik de kaart wilde gaan gebruiken en een neutrale feeststekst vond ik wel toepasselijk bij dit thema!
The label was made with a die from this framelitsset too, and the text comes from the set Detailed With Love. I thought this text matched the subject so well!
Ook de achtergrond maakte ik zelf... Heel simpel hoor... Kleurtjes sponzen en dan het takje uit de stempelset er her en der overheen stempelen. Een euke manier om je eigen perfect bijpassende designpapier te maken.
I alo made the background.... Very simple.. Just sponging some ink in three colours and after that stamping the branch several times on top of that. A fun way to make your own matching DSP!
Met de gebruikte kleuren Daffodil Delight, Mango Melody, Pear Pizzazz en Highland Heather heb je meteen een mooi voorjaarssfeertje!
The used colours: Daffodil Delight, Mango Melody, Pear Pizzazz and Highland Heather give an instant spring feeling!
Doordat overal de kleurtjes terugkomen, en er ook wat witte stukjes te zien zijn oogt het extra fris, en als een echt geheel. Het witte Polka Dot Tulle Ribbon gebruikte ik voor een lichte zwierige strik aan de zijkant.
Using some white too, adds freshness to the card. Some Polka Dot Tulle ribbon was wraped around the front and made into a bow at the side...
Met de juiste kleuren en materialen is dit soort kaartjes heel makkelijk te maken. En zo heerlijk om te doen!!
With the right stamps and inks cards like this one are so easy to make... and so much fun!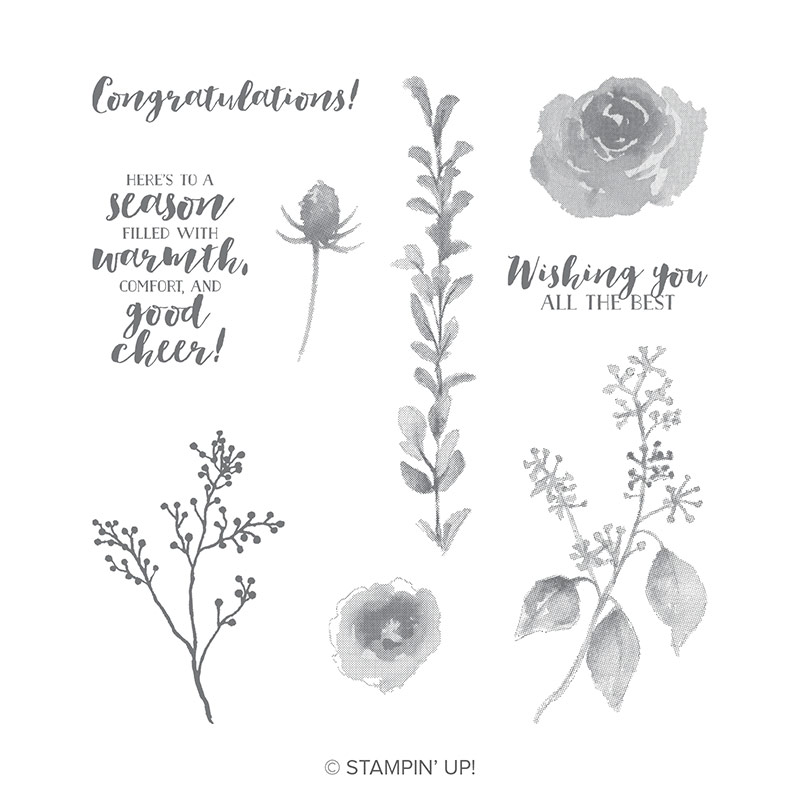 De set First Frost is oorspronkelijk uitgebracht in een wintercatalogus.... maar je ziet hier hoe je met het kleurgebruik meteen de sfeer totaal verandert! Een prachtige set!
The stampset First Frost was originally launched in a wintercatalogue... but as you see the colourchoise can change the effect completely. I really LOVE this set!
Ik hoop dat je het voorjaarsgevoel een beetje te pakken hebt gekregen van mijn project ;o) Wil je nog meer voorjaarspinspiratie kijk dan vooral bij mijn teamgenootjes via de Links hieronder!
Helemaal onderaan het bericht zie je nog een lijst met alle producten die ik heb gebruikt! Heb je vragen, kan ik je ergens mee helpen, of wil je deze gave set (of iets anders) misschien bestellen? Je mag altijd even
contact
op nemen.. Ik help je altijd graag!
Hartelijk dank voor je bezoekje aan de Kijkkast! Ik vind het leuk als je mij laat weten hoe je je bezoekje of het gemaakte project hebt ervaren. Dank daarvoor! Voel je welkom snel weer terug te komen bij de Kijkkast! XXX Annette
I hope this project has infected you with a little bit of springfever... And you know what? There is even more inspiration when you click on the links below!
At he end of this post you will find a list of all the products I used. Don't hesitate to CONTACT me if you have any questions!
Thanks for visiting de Kijkkast! I would love to know what you think about my project, so a reaction is very much appreciated. Please feel free to come back to de kijkkast whenever you want! XXX Annette
You are invited to the
Inlinkz
link party!
Click here to enter
Wat heb ik gebruikt:
Stempels: First Frost, Detailed With Love
Papier: Thick Whisper White, Whisper White, Highland Heather, Mango Melody
Inkt: Pear Pizzazz, Mango Melody, Daffodil Delight, Highland Heather
Dies; Frosted Bouquet Framelits Dies
Embellishments: Polka Dot Tulle Ribbon
Stampin'Write markers: Highland Heather, Mango Melodyy, Pear Pizzazz, Old Olive
Tools: Stampin'Sponges, Papersnips, Big Shot