Het is niet voor niets een hype, het inkleuren voor volwassenen! Het is geweldig om te doen. Ontspannend, Zen, Mindful, Lekker even de harde wereld buiten sluiten en je concentreren op kleurtonen, lichtval, mengen, en mooie effecten maken. Je even een kunstenaar voelen, of gewoon terug naar vroeger, maar dan veel mooier ;o))
Met stempels kun je deze ontspannende bezigheid ook geweldig combineren. Je stempelt je eigen "kleurplaatjes", en dan wel heel mooie! Het is prachtig om de heldere kleuren EN de eigenschappen van de welbekende Stampin'Up!-Classic Inkten te gebruiken en zo je afbeeldingen in te kleuren.
Er zijn meerdere manieren om dit te doen! Je kunt de watercolortechniek gebruiken, wat een heel eigen effect geeft, maar ook zijn er de Blenderpennen. Die heb ik voor deze kaart gebruikt. Ken je ze?
De Blender Pens zijn een soort markers met een speciale, kleurloze oplossing. Met de punt er van kun je elke willekeurige kleur Classic inkt oppakken en gebruiken om te kleuren, en door de speciale vloeistof is het mogelijk prachtig te "Blenden" (verschillende kleuren in elkaar over laten vloeien) en om mooie kleurverlopen (van donker naar licht) te maken! Zo kun je dus met zo'n pakje van deze pennen je inkten weer op een andere manieren gebruiken. Met een pakje Blender Pens heb je eigenlijk in 1 keer een heleboel kleuren!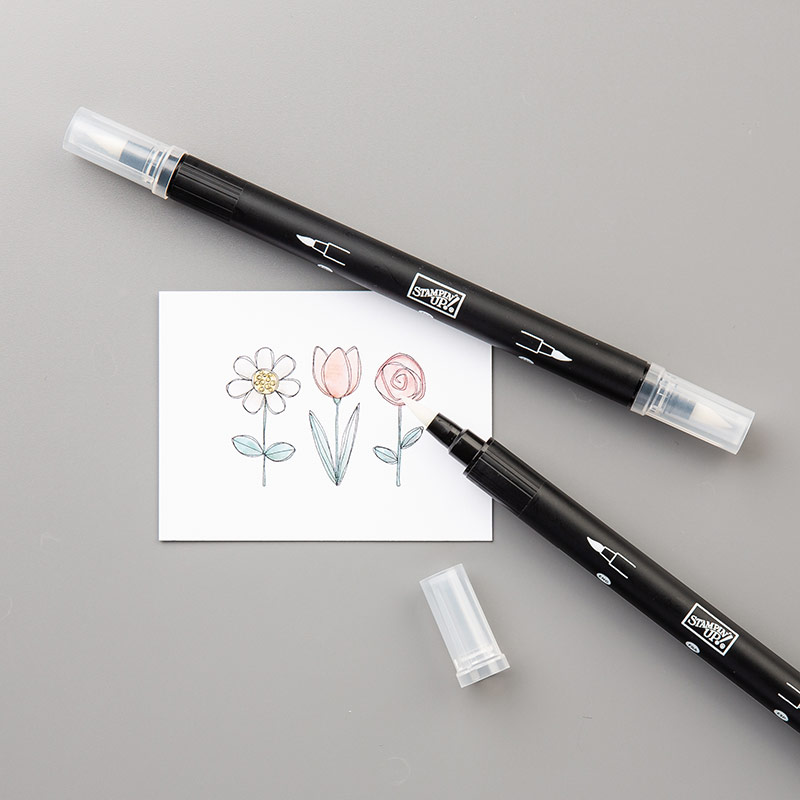 Na gebruik kun je de pennen namelijk gewoon even schoonvegen en dan weer voor een andere kleur gebruiken! Er zijn een aantal technieken om het mengen mooi te doen.
Sinds kort is er echter nog een extra effect bij gekomen door de komst van de WInk of Stella Glitterpennen. Een nieuwe aanwinst in de lente zomer catalogus! Ik heb geprobeerd het efffect op een foto vast te leggen maar het haalt het niet bij de realiteit!
Maar geloof mij, het effect is prachtig. Hier heb ik beide soorten Wink of Stella gebruikt. Met de kleurloze heb ik (nadat ik een beetje inkt opgepakt had) de veegjes op de blaadjes gekleurd, en de gouden heb ik voor de meeldraadjes gebruikt. Volgens de dames die deze kaart gezien hebben zijn de kleuren en het glittereffect best spectaculair te noemen!
Moeilijk? Nee hoor! Maar er zijn uiteraard wel een aantal foefjes en techniekjes om dit effect te bereiken. Op verzoek heb ik daarom een workshop rond de Blender Pens gepland, en daarin wordt ook het werken met de Wink of Stellapennen behandeld. Het kleuren, blenden en mengen en het bereiken van speciale effecten gaan we oefenen en verwerken we dit natuurlijk in een mooie creatie!
Je leert zowel het subtiele blenden, als het wat artistiekere werk ;o) Dat laatste heb ik op deze kaart gedaan. De overgangen zijn hier bewust wat harder. Met de subtiele kleurblendtechniek is het effect weer totaal anders!
Voor deze workshop, die aanstaande zondag 24 januari plaats zal vinden, zijn onverwachts enkele plaatjes beschikbaar gekomen.
Wil jij ook nieuwe technieken leren? Maar was de workshop al volgeboekt... Hoera, dan kan dat dus toch nog! Deze workshop is inclusief een pakje Blenderpens twv 12 euro en ook krijg je een voorraadje prachtig papier (waar het "blenden" ideaal op gaat) mee naar huis, zodat je lekker verder kunt oefenen! Bij techniekenworkshops als deze werken we altijd met een kleine groep zodat iedereen volop aandacht en begeleiding zal krijgen.
Geloof mij: Het inkleuren met deze producten is verslavend, heerlijk en prachtig en je zult andere mensen maar ook jezelf versteld doen staan van je kunsten ;o) En wat natuurlijk ook erg leuk is...... zo gebruik je je stempels en inkten weer op een heel andere manier!
Het zou ontzettend leuk zijn je a.s. zondag te mogen verwelkomen bij deze Kijkkast workshop!! Meld je snel aan, want de beschibare plaatsjes zijn beperkt!
Check eerst even de
WORKSHOPAGENDA
voor de details en de beschikbare plaatsen.
Wat heb ik gebruikt:
Stempels: Birthday Blooms
Inkt: Basic Gray, Watermelon Wonder, Blushing Bride, Old Olive. Mossy Meadow
Papier: Cardstock: Watermelon Wonder, Mint Macaron, Shimmery White
DSP Birthday Bouquet
Embellishments: Bow Paper Clips Embellishments, Watermelon Wonder 1 inch Stitched Satin Ribbon
Tools: Wink of Stella Glitterbrush in Clear en Gold, Blender Pens
En verder: Stampin'Dimensionals, Multipurpose Liquid Glue
Tot snel!
Annette
*Van 5 januari tm 31 maart 2016: Sale-A-Bration! Krijg een gratis SAB kado bij elke 60 euro aan bestellingen!
*Eerstvolgende (mee-)besteldag: maandag 25 januari om 19.00 uur
Op zoek naar een leuk Valentijnsdagkadootje?
KIK: de Kijkkast Inspiratie Kit!
(lees
HIER
alles over de KIK!)