Met dat "back to basic" bedoel ik deze keer onder andere dat ik even terugga naar de basis van Kerst, het aloude Kerstverhaal,
Ook prachtig om daar kaarten over te maken, en ik vond het deze keer daar een vintagevleugje aan te geven. Het geeft het geheel een tijdloze uitstraling.
Ook qua kleuren ben ik hier helemaal Back to Basic gegaan.
Stampin'Up! is altijd heel veelzijdig in haar assortiment en heeft eigenlijk elk jaar wel mooie klassieke stempels in het kerst-assortiment. Dit jaar sprong de set All Ye Faithul er voor mij echt uit. Niet alleen qua thema, maar ook om de prachtige schetsachtige tekenstijl waarin de afbeeldingen gemaakt zijn.
Daarmee kun je alle kanten op. Ze zijn bijvoorbeeld ook prachtig om in te kleuren!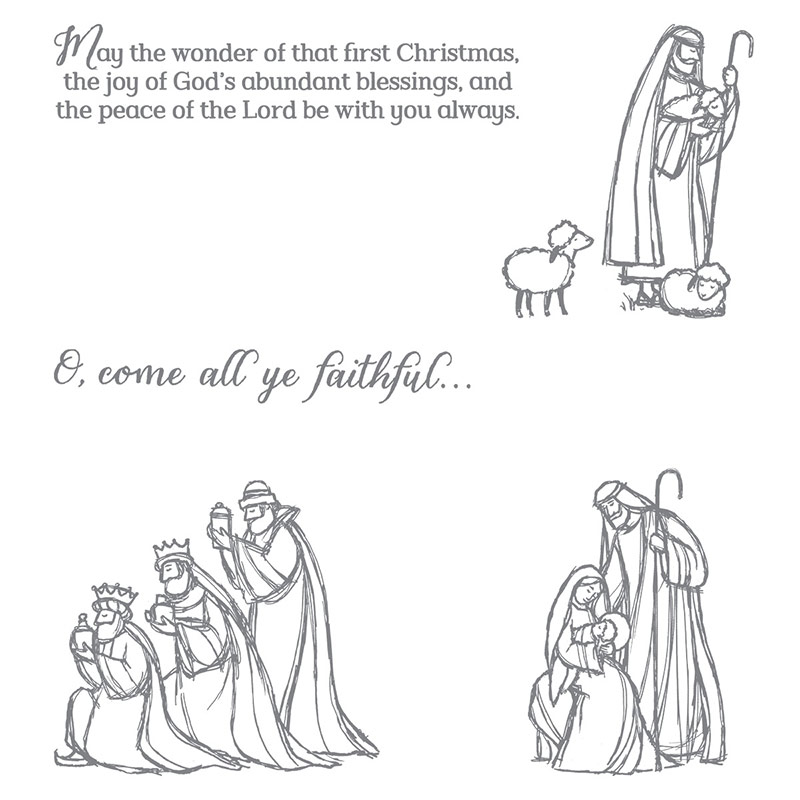 Het geemboste achtergrondpapier is in werkelijkheid alleen een geemboste rand. Deze heb ik gemaakt met de Boughs &Berries Embossingfolder en op maat gesneden. Ik heb de motieven extra benadrukt door er met een sponsje met inkt zachtjes over te wrijven. De inkt blijft dan vooral op de hoger liggende delen achter.
Verder heb ik flink met laagjes gewerkt, en heb ik hier en daar de randen zachtjes gesponsd. Zo lijkt het papier ouder en het geeft een mooie gloed.
Ik heb gouden accentjes opgebracht, op het aureool van het Kerstkindje en hier en daar op de geemboste rand. Dat is een beetje lastig mooi op de foto te krijgen helaas. Ik heb dit gedaan met Stampin'Glitter. Dit poeder is verkrijgbaar in de kleuren Dazzling Diamonds, zilver en goud, en ik heb uiteraard de goudkleurige variant genomen. Dit is aangebracht door met de 2-Way Glue pen hier en daar stukjes aan te tippen, en dan het glitter er op te strooien. Er blijft in de lijm precies genoeg glitter plakken omdat dit poeder zo mooi fijn is. Daardoor kun je ook heel gedetailleerd werken. Dit poeder werkt trouwens ook heel mooi met het Heat and Stick Powder. (te vinden op blz 162 van de jaarcatalogus, mocht je nieuwsgierig zijn).
De afwerking heb ik subtiel gehouden met een stukje Gold Cording Trim en een van die mooie houten sneeuwvlokjes, de Snowflake Elements. De tekst komt uit de stempelset Reason for the Season.
Zo heb ik zomaar weer een kaartje klaar. Leuk om telkens iets totaal anders te maken! Mijn voorraad groeit al lekker. Ben jij ook al bezig met je kerstkaarten?
Wat heb ik gebruikt:
Stempels: All Ye Faithful, Reason for the Season
Inkt: Soft Suede, Chocolate Chip
Papier: Cardstock: Soft Suede, Sahara Sand
Embossingfolder: Boughs & Berries
Embellishments: Gold Cording Trim, Snowflake Elements, Stampin'Glitter Powder Gold,
Tools: Stampin'Sponges, 2-Way-gluepen, Stampin'Trimmer, Big Shot
En verder: Stampin'Dimensionals, Multi Purpose Liquid Glue
Tot snel!
Annette
*** Kijkkast-oktober-aanbieding: Ontvang GRATIS producten/kadoos bij je bestelling! Lees HIER hoe!***
KIK: de Kijkkast Inspiratie Kit!
(lees
HIER
alles over de KIK!)