*This Blogpost is in Dutch & English*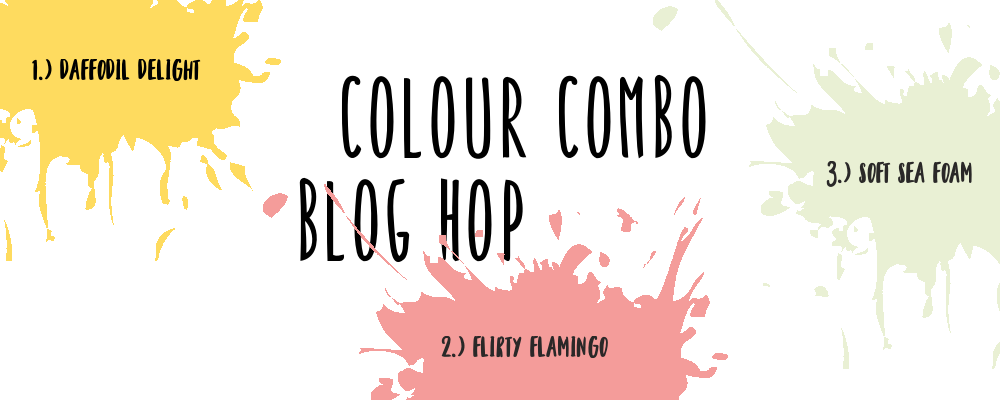 Welkom bij de Colour Combo Bloghop! Bij deze bloghop laten we ons elke maand uitdagen met een nieuwe kleurcombinatie. Deze keer hebben we gewerkt met de bijzondere combi van Daffodil Delight, Flirty Flamingo en Soft Sea Foam!
Welcome to the Colour Combo Bloghop! Each month we challenge ourselves with a new colourcombination. This month we worked with the unusual combination of Daffodil Delight, Flirty Flamingo and Soft Sea Foam!
Ik moest bij het zien van deze combinatie meteen aan de nieuwe stempelset Bijzondere Zonnebloemen denken, de Nederlandse variant van de set Celebrate Sunflowers!
When I saw these colours I immediately thought of the new stampset Celebrate Sunflowers!
Ik gebruikte de Stampin´Blends in deze kleuren om de grote bloem en de achtergrond kleur te geven.
I used the Stampin´Blends in those colours to colour the big flower and the background.
Het zijn prachtige afbeeldingen om in te kleuren! Ik heat-emboste ze eerst met Gold embossingpoeder.
The beautiful images are so nice to colour in! I first Heat Embossed them with Gold embossingpowder.
Voor de achtergrond kleurde ik niet de bloemen, maar de ruimte er tussenin.
For the background I did not colour the flowers, but the spaces between them.
De grote zonebloem verloopt in kleur van Flirty Flamingo in het midden, naar Daffodil Delight aan de buitenrand. Ik kleurde hierbij in de Scribble techniek.
The big sunflower fades from Flirty Flamingo in the centre to Daffodil Delight on the outside. I coloured in the Scribble Technique.
De grote bloem en de achtergrond `blenden`prachtig met elkaar.
The big flower and the background blend very nicely.
In het begin had ik de blaadjes gestempeld en ingekleurd, maar ik besloot om toch voor blaadjes inSoft Seafoam Cardstock te gaan voor net wat meer contrast. Ik gebruikte steeds een dicht blaadje met daarop een opengewerkt blaadje.
At first my plan was to use the stamped leaves that I had coloured with the Stampin´Blends, but I decided to change my plan and use diecut leaves from Soft Sea Foam Cardstock, to get just a little more contrast.
De tekst komt uit de zelfde stempelset. Deze stanste ik uit met de Tasteful Labels dies
The text is from the same stampset. I used the Tasteful Labels Dies to diecut it.
Wat Champagne Rhinestones zorgen voor de finishing touch.
Some Champagne Rhinestone Jewels take care of the finishing touch.
En dan is deze zonnige kaart al weer klaar! Het was een gave combinatie om mee te werken!
And then this sunny card is done! It was a great colourcombination to work with!
Dankjewel dat je bij de kijkkast bent komen kijken! Ik hoop dat je het leuk vond. Een reactie op deze blogpost wordt altijd enorm gewaardeerd! Je kunt door de links hieronder de blogpost vervolgen. Ik weet zeker dat je een hoop ideetjes op zult doen! Dankjewel en tot snel! XXX Annette
Thanks for visiting de Kijkkast. I hope you liked it! A reaction to this post is always appreciated a lot! By using the links below you can continue this hop! I am sure you will get a lot of inspiration! Thanks, and feel welcome to come back soon! XXX Annette
Volgende halte is bij:
Next bloghopstop is at:
>>>Elizabeth<<<
Wat heb ik gebruikt:
Stempels: Bijzondere Zonnebloemen/Celebrate Sunflowers
Papier: Cardstock: Thick Whisper White, Whisper White, Soft Sea Foam
Inkt: Flirty Flamingo, Versamark
Dies: Sunflower Dies, Tasteful Labels Dies
Stampin'Blends: Daffodil Delight, Flirty Flamingo, Soft Sea Foam
Embellishments: Embossingpowder Gold, Champagne Rhinestone Jewels, Stampin'Chalk Marker
Tools: Diecutting Machine, Heat Tool, Stampin'Sponges
Eerstvolgende (mee)besteldagen:
Maandag 15 juni, om 19.00 uur!
*Momenteel bestel ik dagelijks persoonlijke orders!
Je spulletjes worden in dit geval direct vanaf StampinÚp naar jouw huis gestuurd
( Vanaf 70 euro is dat nu gratis!),
*Ook doe ik op elke maandag een meebestelling.
In dit geval kun je je bestelde spulletjes, veilig, en op afspraak, in Wognum op komen halen.
Van 2 t/m 9 juni OPEN HUIS bij de Kijkkast!
in veilige digitale vorm!
Kom je ook?
Wil jij ook voortaan minimaal 20 procent korting hebben op al je stempelmaterialen?
Wil je ook meer doen met stempelen, of ben je gewoon een echte fan?
Houd je van gezelligheid, en betrokkenheid?
Kom er bij! Je bent van harte welkom!
Vraag mij om uitgebreide informatie, of kijk eerst eens HIER!
en spaar voor gratis producten!
***Met diverse Clubvoordelen ;o)***
Wil jij graag de nieuwe JAARCATALOGUS
ontvangen??
Vraag er eenvoudig eentje aan door mij een EMAIL te sturen