Voor mij geldt dit zeker! Als ik ooit de kans heb om mijn hobbykamer helemaal in orde te maken is het nu! Midden in de vakantietijd! Dus mijn excuses voor de blogstilte, maar ik ben deze dagen als een tornado bezig in de kamer die ik binnenkort weer mijn hobby-/werkkamer oftewel atelier mag noemen. Ik ga er even helemaal voor zodat ik straks weer voor de volle 100 procent aan mijn passie, het stempelen en het bedenken van mooie workshops, kan werken! ( IK KAN NIET WACHTEN!) Ik houd jullie natuurlijk op de hoogte.
Maar ik kom vandaag toch even om de hoek kijken om jullie even wat tips te geven, aangezien het vandaag een belangrijke dag is. Een heuse Nu-Of-Nooit-Dag!
Vandaag lopen namelijk drie heel belangrijke acties af, acties waarvan het ZONDE is ze te missen!
1:
Alleen vandaag geldt nog de Bonus Days Actie! Bij elke 60 euro aan bestellingen krijg je een digitale voucher twv 6 euro die je in augustus weer kunt inwisselen. Je kunt zo veel vouchers (kortingscodes) bij elkaar verzamelen als je maar wilt! Heb je er meer dan een kun je dus bijvoorbeeldeen stempelset bij elkaar verzamelen, of in ieder geval een fikse korting daarop!.
Vanavond om 19.00 gaat de laatste juli-mee-bestelling de deur uit! Dus, wees op tijd en bestel die leuke stempelspulletjes zodat je nu lekker aan de stempel kunt (hetis immers echt stempelweer!) en in augustus ook nog eens van je korting iets leuks uit kunt kiezen! Dubbel plezier!
2:
Alleen vandaag nog krijg je bij het bestellen van een Stampin'Up! Starterkit het prachtige basicspakket vol superhandige "essentials" twv 87,50 EXTRA kado, naast de andere voordelen die deze kans je sowieso al biedt, zoals voor 175 aan materiaal uitkiezen en slechts 129 euro betalen, een prachtig startpakket (gratis) en voortaan minimaal 20 procent korting op je bestellingen... Neem snel contact op als je meer wilt weten over deze fantastische kans!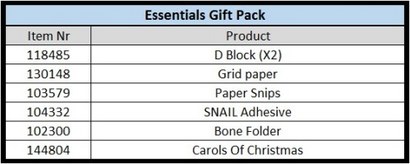 Ook op
DEZE PAGINA
kun je al heel veel informatie vinden, maar stel me gerust al je vragen als je interesse hebt! Er is geen voordeligere manier om aan je prachtige stempelproducten te komen ;o)
3:
Alleen vandaag nog kun je je aanmelden voor de ongelooflijk gave Kijkkast Stempelzomer. Na vandaag stop ik met het bijmaken van de Stempelzomerkits! Geloof mij..... het is enorm de moeite waard!
De reacties zijn superenthousiast en de Kits gaan flink op reis zo hier en daar, maar ook zijn er deelnemers heerlijjk thuis aan de slag gegaan. Het is dan ook een unieke kans, met de 17 vreschillende workshops, met duidelijke instructievideo's en tips & Tricks, waarbij alle benodigde spulletjes in 1 tasje passen en die je kunt doen waar en wanneer je maar wilt! Alleen vandaag nog kun je je aansluiten. Je krijgt uiteraard gewoon alle video's, vanaf het begin van de hele Stempelzomer, dus mist niets! Voor meer info klik je HIER!
Reden genoeg dus om vandaag nog even actie te ondernemen! Heb je vragen of advies nodig, of wil je meer weten over een van de acties, of misschien een (mee-)bestelling doen....ik help je met alle liefde verder!
Wil je meer leuke laatste nieuwtjes, updates en tips lezen, kom dan af en toe langs op de Kijkkast Facebookpagina. Daar zal ik af en toe ook een klusupdate plaatsen ;o) Er is bovendien een heel leuke winactie daar! Je vindt ons HIER!
Tot snel!
Annette