Dat is dol ben op INKT is inmiddels wel bekend denk ik ;o) Er zijn weinig andere kleurmediums zo veelzijdig te gebruiken als inkten, zeker de Classic Stampin'Up!inkten die geweldige kleuren hebben, met intense pigmenten en daarbij diverse geweldige eigenschappen bezitten. Dat maakt ze voor velerlei technieken geschikt, bijvoorbeeld voor Watercolortechnieken. Deze inkten behouden dan prachtig hun kleur!
Met dit soort techniekjes heb ik dit kerstige landschap gemaakt.
Maar ook "gewoon stempelen"doet de inkt geweldig mooi! Enjuist die combinatie kom je zelden tegen.
In dit geval leidde het tot deze rustige en veelzeggende kaart!
Deze kaart maakten we kort geleden tijdens een van de Artsy Stempelworkshops. Deze workshops was in Kerstthema. De Artsy workshops zitten altijd vol kleur, inkt en techniek, en dan maken we altijd de wat minder gebruikelijke (en soms zeer gedurfde) creaties door de materialen op andere, nieuwe manieren te gebruiken.. Heerlijk om te doen!
We mixten lekker met twee sets met kerststempels: Joyful Nativity en Wonder of Christmas, en met een gave set uit de jaarcatalogus: Playful Backgrounds
Wat subtiele glimmers uit de Metallic Sequin Assortment zorgen voor de finishing touch
Een kaartje dat zonder veel poespas doet denken aan die nacht van de allereerste "Kerstmis"...
Een klassiek thema, maar toch in een moderne en strakke kaart samengevat!
Inkt, water, papier, een set Aquapainters.... en natuurlijk een paar waanzinnig mooie stempels.... Veel meer dan dat heb je niet nodig! De stempelset Joyful Nativity is overigens een prachtige set die ik altijd heel graag voor de wat apartere kerstkaarten gebruik!
De deelnemers aan deze workshop waren helemaal verrast over hun eigen kunsten! Het was super om ze de tips en truuks te kunnen en mogen leren! Ik geniet altijd enorm van die blije gezichten ;o) Voor de Artsy Workshops is een grote groep liefhebbers en men komt regelmatig van ver naar Wognum toe om gezellig aan zo'n workshop mee te kunnen doen. Ook op aanvraag is deze workshop te boeken, als je zelf met een groep komt, maar het kan eventueel ook bij jou thuis. Bij dit soort techniekenworkshop werk ik graag met een wat kleinere groep, zodat iedereen goed begeleid kan worden! Natuurlijk komen er ook weer leuke Artsy voorjaarsworkshops aan, want het is veel te leuk om niet te doen ;o)
Wat heb ik gebruikt:
Stempels: Joyful Nativity, Wonder of Christmas, Playful Backgrounds
Papier: Cardstock: Whisper White Thick, Elegant Eggplant, Shimmery White
Inkt: Elegant Eggplant, Perfect Plum, Melon Mambo, Night of Navy, Soft Sky, Versamark
Embellishments: Embossingpowder Whisper White, Metallic Sequin Assorment
Tools: Aqua Painters, Stampin Sponges, Sponge Daubers, Stampin'Spritzers, Embossing Buddy, Heat Tool
En verder: Fast Fuse, Fine Tip Glue, Keukenrol, Sheet
Tot snel!
Annette
Alleen in November: (nog slechts een dagje geldig!)
25 procent korting op geselecteerde Stempelsets!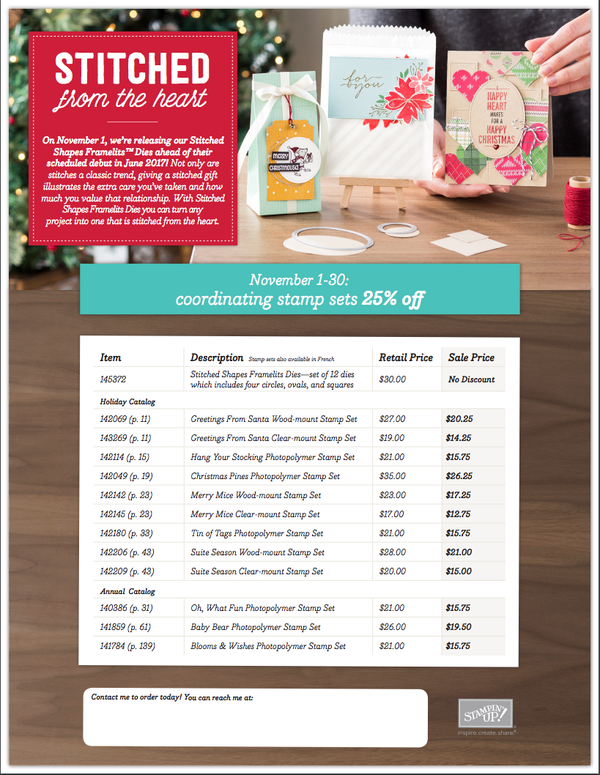 en spaar voor gratis producten!
***Met diverse Clubvoordelen ;o)***
*
Eerstvolgende (mee-)besteldagen:
Donderdag 1 december: 11.30 en 19.30 uur
Maandag 5 december om 19.00 uur
Vind je Stampin'Up! ook zo gaaf en wil je ook gebruik maken van de voordelen (korting!!)
Zou je graag ons nieuwe teamlid worden?
Het is nu een ideale tijd om in te stappen als (hobby) demo!
Ik vertel je graag waarom, dus neem gerust contact op als je meer wilt weten!
voor info kijk je ook
HIER