Voor de dochter van mijn lieve vriendin maakte ik dit echte meisjeskaartje met een hoog zuurstokgehalte... Ze is namelijk geslaagd voor haar zwemdiploma B en mag nu op dansles! Dat verdiende wel een kaartje!
Deze jongedame is echt een meisje voor roze. Dus ik hoefde niet na te denken over de kleur van de kaart die ik voor haar wilde maken ;o) Ik heb hier lekker fel Melon Mambo Roze gebruikt en wat zachte Blushing Bride als extra kleurtje.
Het danseresje komt uit een ontzettend leuke stempelset Talented Trio. Ik ben eerlijk gezegd vaak niet zo dol op de zogenaamde "cute"stempels, maar van deze meisjes is de tekenstijl zo leuk simpel, en je kunt er zo veel kanten mee op, dat ik er meteen op viel!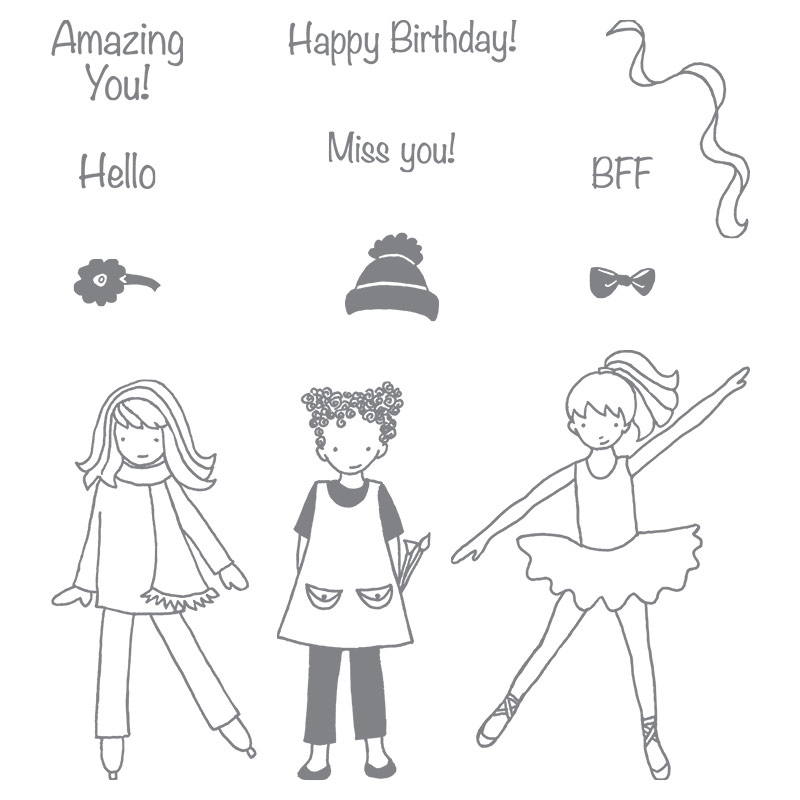 Naast leuke meisjes met verschillende "talenten"zitten er ook leuke extra's bij zoals accessoires en tekstjes. Zo gebruikte ik voor mijn kaartje nu bijvoorbeeld de leuke haarband met bloem als 3d element.
Voor de leuke achtergrond met "Dots"heb ik de leuke achtergrondstempel Dots for Days gebruikt. Zo schattig als je die in felroze afdrukt!
Van het danseresje heb ik bewust alleen de kleding ingekleurd. Dat deed ik met de kleuren Blushing Bride en Melon Mambo en een Aqua Painter. De kleur op de schoentjes en de stipjes op het bovenstukje van het jurkje maakte ik met de Stampin'Write Marker. Het witte randje langs het rokje en de witte stipjes er op maakte ik met de Uni-Ball Signo Pen. Die is echt mooi wit en dekkend.
Ik kon het niet laten en heb het hele jurkje nog een glitterlaagje gegeven met de Wink of Stella Glitter Brush ;o)
Natuurlijk moesten er nog wat Rhinestones op, en aan de enveloppe moest duidelijk te zien zijn dat het hier om echte jongedamespost gaat ;o) dus ook die is subtiel versierd met het schattige kleine strik-stempeltje.
Ronduit HEERLIJK om tussendoor eens zo'n totaal ander kaartje te maken.
Ik word daar echt blij van ;o) Inmiddels heb ik vernomen dat de kleine jongedame ook blij was met deze post, dus is ook deze missie weer geslaagd ;o)
Wat heb ik gebruikt:
Stempels: Talented Trio, Dots for Days
Inkt: Melon Mambo, Blushing Bride, Basic Gray, Smoky Slate
Papier: Cardstock: Whisper White, Blushing Bride, Melon Mambo, Note Cards & Envelopes
Embellishments, Rhine Stone Jewels
Tools: Stampin'Write Markers (Brights en Subtles) , Paper Snips, Stampin'Trimmer, Aqua Painters, Wink of Stella Glitterbrush
En verder: Multi Purpose Liquid Glue, Stampin'Dimensionals.
Tot snel,
Annette
*Van 5 januari tm 31 maart 2016: Sale-A-Bration! Krijg een gratis SAB kado bij elke 60 euro aan bestelling!
*Eerstvolgende (mee-)besteldag:

maandag 14 maart om 19.00 uur
Verbazend leuk en spannend:
KIK: de Kijkkast Inspiratie Kit!
(lees
HIER
alles over de KIK!)