Vandaag, en eigenlijk al de afgelopen dagen, had ik even een kleine verbouwing hier in huis... Inmiddels is alles weer helemaal netjes en aan kant hoor... maar alles is op z'n kop geweest en verplaatst, en opgefrist, want ik had zin om de boel hier helemaal in kerststemming te maken en daar hoort natuurlijk het gezellig maken van het huis bij. Bovendien heb ik dan straks in de vakantie meer tijd voor leuke dingen zoals STEMPELEN! Maar goed, eerst was ik lekker bezig met restylen....En zo kwam ik tot de ontdekking dat ik hier nooit mijn krans heb laten zien!
Ik maakte hem al een poos geleden met de geweldige Season to Season kit... Waar alles "drop en dran" zit om deze gave krans te maken.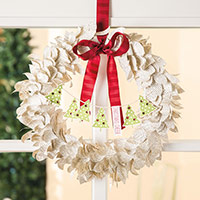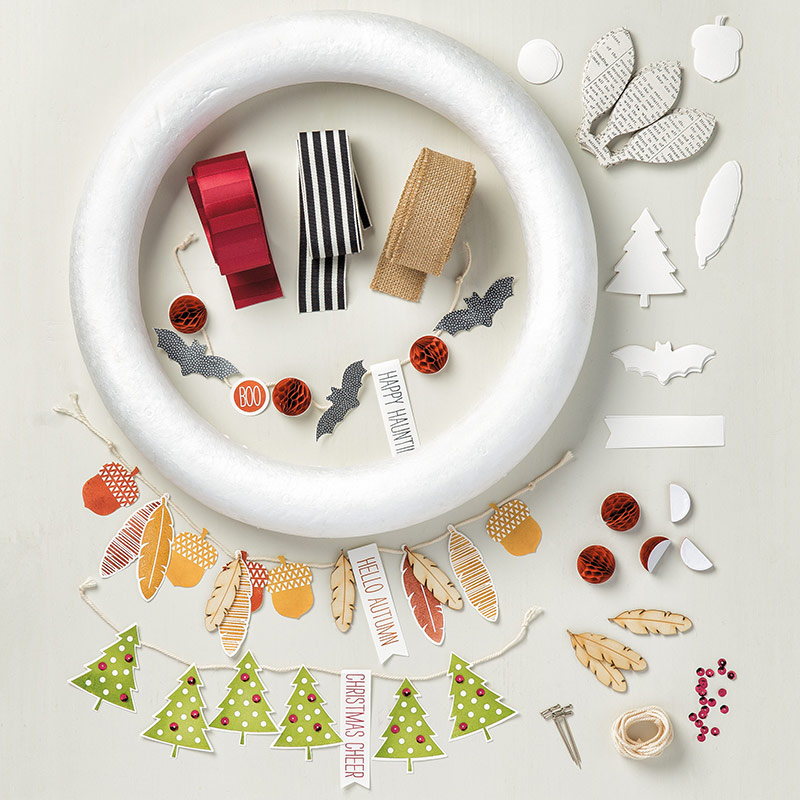 Deze kit was een van mijn eerste aankopen uit de herfst-wintercatalogus. Helemaal mijn smaak! Ik ben er in het afgelopen najaar dus een avondje voor gaan zitten om de basiskrans te gaan bedekken (en dat is echt in twee uurtjes gedaan) en de volgende avond heb ik toen de diverse leuke slingertjes/bannertjes gemaakt voor er in. Leuk om te wisselen! Het was een heel leuk werkje, en heel makkelijk te doen!
Zo heeft de krans al een hele poos met deze "herfstoutfit" in onze huiskamer gehangen. Leuk op een antiek houten trapje....
Maar ook na de kerst houdt deze prachtige krans zeker een plekje. Daarvoor heb ik ook al weer een leuke banner gemaakt. Gewoon zelf verzonnen, en in mooie rustige kleurtjes en een happy thema. Dan komt het bijgeleverde lint in Basic Black/Very Vanilla er weer aan.
Als je misschien ook met deze krans aan de slag wilt.... dan is mijn tip: Gebruik vooral je fantasie. De krans is een prachtige set, een beetje vintage/brocanteachtige als je wilt en ook de slingers kun je naar eigen smaak aanpassen. Ik heb bijvoorbeeld andere stempels gebruikt, en andere kleurtjes dan op het voorbeeld. Er zit allerlei leuks bij, van stevig papier en van hout, en zelfs 3 d honingraatpapier elementjes, en natuurlijk kun je er zelf nog allerlei leuke dingen bij verzinnen en je eigen themakrans er van maken. Met andere Stampin'Up!-stempels, ponsen en wat je ook maar verzint, kun je er moeiteloos een lentekrans,verjaardagskrans, babykrans, huwelijkskrans etc van maken! Mocht ik je kunnen helpen met ideeen, laat het me dan gerust weten, ik deel ze met alle liefde met jullie. Je kunt het steeds aanpassen aan de tijd van het jaar, je eigen smaak en je eigen huis!
En wat nu extra leuk is... deze supercomplete kit is te vinden in de Eindejaars Sale, voor een superlief prijsje! Van 32,75 nu voor 19,65 euro! Dat kun je toch niet laten liggen? Maar denk er wel even aan, dat alles verkrijgbaar is zolang de voorraad strekt... Gelukkig plaats ik zondagavond a.s. weer een (mee-) bestelling voor de liefhebbers!
Zo'n kit is ook een erg leuk kadoidee trouwens!
Nogmaals, alles zit er bij, alleen raad ik je aan voor de basis (de papieren bladeren) een lijmpistool te gebruiken, maar die heb je vast wel in huis en is anders voor een klein bedragje te koop.
Nog meer leuks:
Het is woensdag, dus....Dan heb ik natuurlijk ook nog de weekaanbiedingen voor jullie!
Ze zijn lekker kleurrijk deze keer! Mooie kleurtjes en lieve motiefjes vind je in het Pretty Petals Paper Stack, heel veel dessins die natuurlijk perfect bij elkaar passen! Voor wat ideetjes kun je
HIER
even een kijkje nemen....als je zin hebt!
En een heel ander soort papier is het Cherry on Top Cotton Paper Assortment. Dit is wel even een aparte toelichting waard, want dit is heel bijzonder papier. Het is dun en heel soepel, maar tegelijkertijd ook best stevig, en superleuk om er bloemen, toeven, kadootjes en ander leuks van te maken. En de kleuren zijn superfris en dus geschikt voor feestelijke projecten. Het papierblock Cherry on Top en dit Cotton Paper zijn helemaal op elkaar afgestemd dus super om te combineren!
En als je dan toch met vrolijke kleurtjes bezig bent, mag je ook de Brights Assortment Sequins niet missen. Lekker kleurtjes (Melon Mambo, Old Olive, Pumpkin Pie, Pacific Point, Real Red) en in een mooi doosje verpakt, per 750 stuks. Altijd leuk als accentje op je kaartje of doosje, of super in je shakerkaartje of schudzakje in bijvoorbeeld je Project Life Album.
Geen enkel project is compleet zonder tekst, en deze set is echt het neusje van de zalm hoor. Superbruikbare en compacte tekstjes die dus ook heel goed uit te ponsen zijn. Door het formaat passen ze altijd en zijn ze ook weer erg leuk voor je Project Life kaartjes. Je kunt er eigenlijk nooit teveel van hebben!
Zo, dat was weer een aardig lange blogpost en veel informatie! Morgen ben ik er weer met een techniekenkaartje! En morgen gaan ook de KIKenveloppen op de post! Ik ben weer heel benieuwd hoe jullie hem gaan vinden!
Tot snel,
Annette
In December bij De Kijkkast:
De SU-per Eindejaarstombola!
Maak bij je bestelling kans op gave prijzen!
Wil je ook je inspiratie een flinke "boost"geven?
KIK: de Kijkkast Inspiratie Kit!
(lees
HIER
alles over de KIK!)