Geen winterdip hier hoor, een herfstdip dan? Nee ook niet!
Vandaag heb ik namelijk een heerlijk creatief dagje met een aantal van mijn teamleden. Supergezellig! Natuurlijk gaan we aan de slag met stempels en inkt. We doen een workshopje, we doen een secret Sister Swap, we eten lekker van allerlei meegebrachte specialiteiten, we wisselen swapkadootjes uit en we doen iets geheims, iets heel leuks, maar daarover verklap ik niets. Je weet maar nooit wie er meeleest ;o) Ik wed dat de dag omvliegt! Een verslagje volgt nog.
Maar ik heb wel iets dat ik vandaag al kan laten zien.
In plaats van een kaartje is het ook altijd leuk om een leuke attentie kado te geven tijdens de wintermaanden of rond de kerst. Ik neem dit jaar leuke kadoverpakkingen mee. Een doosje.....of is het nu een tasje?
Leuk om hem dan te vullen met zo'n zakje voor chocolademelk ofzo, Of bonbons,
of marshmellows, of pepermuntkussentjes oid.
Of gewoon alles bij elkaar;o)
Niet alleen is het leuk om te geven maar je hebt bij dit soort projectjes ook ontzettend veel lol tijdens het maken!
Eerst heb ik het cardstock (Pool Party) bestempeld met de sneeuwvlokjes, en van het cardstock heb ik vervolgens met de Gift Bag Punch Board een tasje gemaakt. Ik heb deze keer bovenaan een flap gemaakt. Dat kan heel makkelijk met deze zelfde punch board. Dat is op zich al een leuk klusje, want het is makkelijk, heel snel klaar en ziet er leuk uit.
Daarna ben ik heerlijk aan het spelen geweest met de stempels en stansen van de Snow Place stempelset. Echt hoor, als je een beetje chagrijnig bent moet je deze stempels pakken. Je vrolijkt er gegarandeerd van op! Je vindt in deze set namelijk een olijke pinguin en een grote en kleine sneeuwpop die beiden duidelijk binnenpretjes hebben. Weg met de winterdip dus!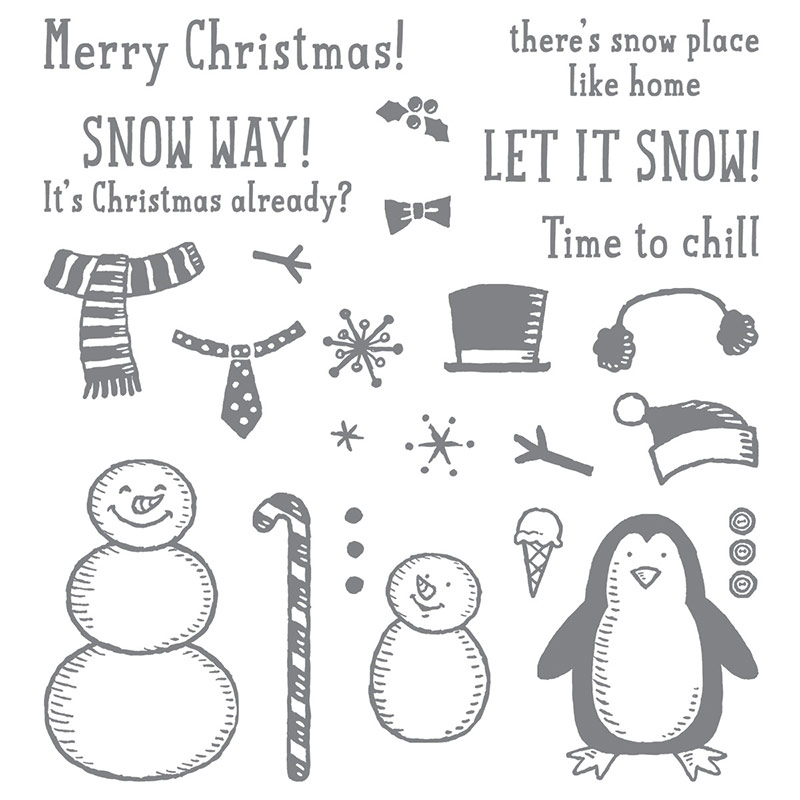 Dan zitten er ook nog allerlei ludieke accessoires bij, zoals een hoge hoed, stropdas, sjaal, knopen, kooltjes, oorwarmers, takken (om armen mee te maken) , candycane/wandelstok en een dikke wollen muts.
Je stempelt de gewenste accessoires in de kleur naar keuze en stanst ze uit (voor alle accessoires is een stans! cool he?) en dan ga je de boel -net als de aankleedpoppetjes van vroeger- schuiven tot het naar je zin is en plak je het vast.. Het is allemaal zo leuk bedacht. In een oogwenk maak je er iets geinigs van!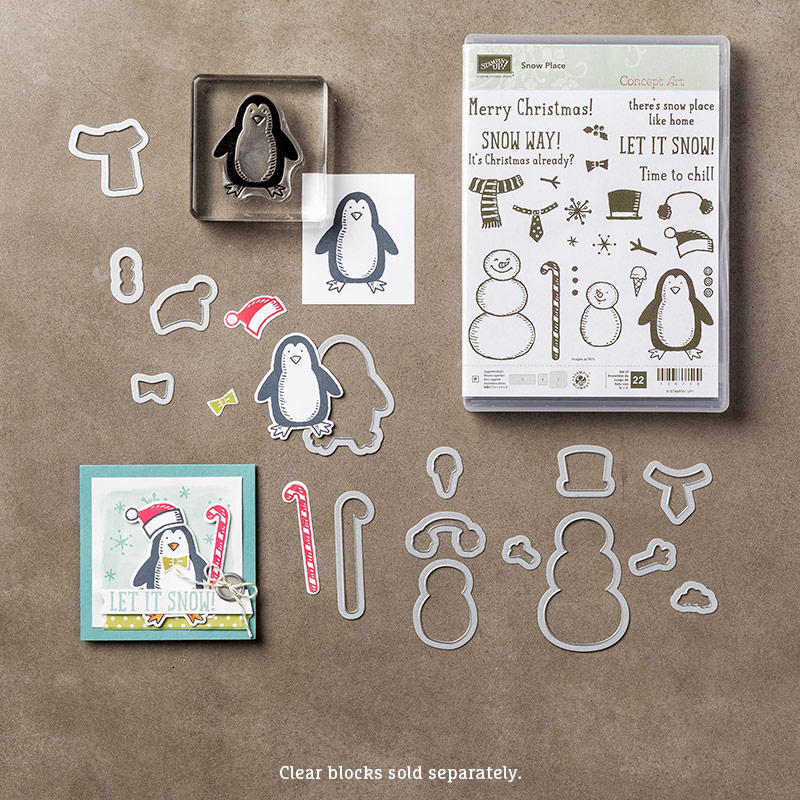 Om het doosje te sluiten heb ik een houten knijpertje (Clothespin) beplakt met washi . Ik heb er een stukje Whisper White Bakers Twine aangestrikt en vervolgens met het knijperje een stuk Pompomtrim vastgezet om de boel net nog iets vrolijker en wolliger te maken. En zo komt ook het rood weer terug.
Pool Party met Real Red is een van mijn favoriete wintercombi's. Fris maar ook warm. Alle stempels, ook de sneeuwvlokken en de tekst, komen uit de zelfde stempelset. De stempels en dies zijn trouwens als bundle (dus met 15 procent bundlekorting) te bestellen.
Je kunt je voorstellen dat er hiermee nog veel meer te bedenken is. Hele taferelen kun je maken! Zo leuk! Belangrijkste is dat dit een heel blije set is. En dat is altijd welkom tijdens de lange donkere winter, toch?
Wat heb ik gebruikt?
Stempels: Snow Place
Inkt: Pool Party, Basic Gray (archival), Real Red
Papier: Cardstock: Pool Party, Whisper White
Pons: Banner
Framelits: Snow Friends Framelits Dies
Embellishments: Clothespins, Washitape Sweet Li'l Things, Bakers Twine Whisper White, Real Red Pompom Trim
Tools: Gift Bag Punch Board, Bone Folder, Stampin'Trimmer, Paper Snips.
En verder Tear and tape Adhesive, Stampin'Dimensionals
Tot snel!
Annette
*** Kijkkast-oktober-aanbieding: Ontvang GRATIS producten/kadoos bij je bestelling! Lees HIER hoe!***
Wil je meer technieken leren?
KIK: de Kijkkast Inspiratie Kit!
(lees
HIER
alles over de KIK!)