Bloemen hoeven niet altijd lief of zoetig te zijn. Ook fris, stemmig of zelfs een beetje stoer is mogelijk!
Eigenlijk vind ik dat dit kaartje wel een beetje in die laatste categorie valt!
Iedereen is wel eens onzeker maar soms zijn er van die momenten dat je MOED moet tonen. Ook al is de situatie onzeker, of ben je misschien onzeker over jezelf of over je eigen kunnen.. of zijn er andere factoren die het extra moeilijk maken moedig te zijn.
Ik denk dat we bijna allemaal wel iemand kennen die in zo'n situatie zit... of misschien heb je er zelf wel mee te maken...
Hoe fijn is het dan als je zo'n lieve boodschap ontvangt, of als je hem aan iemand kunt sturen! Echt een hart onder de riem!
Een kaartje kan dan zo veel betekenen!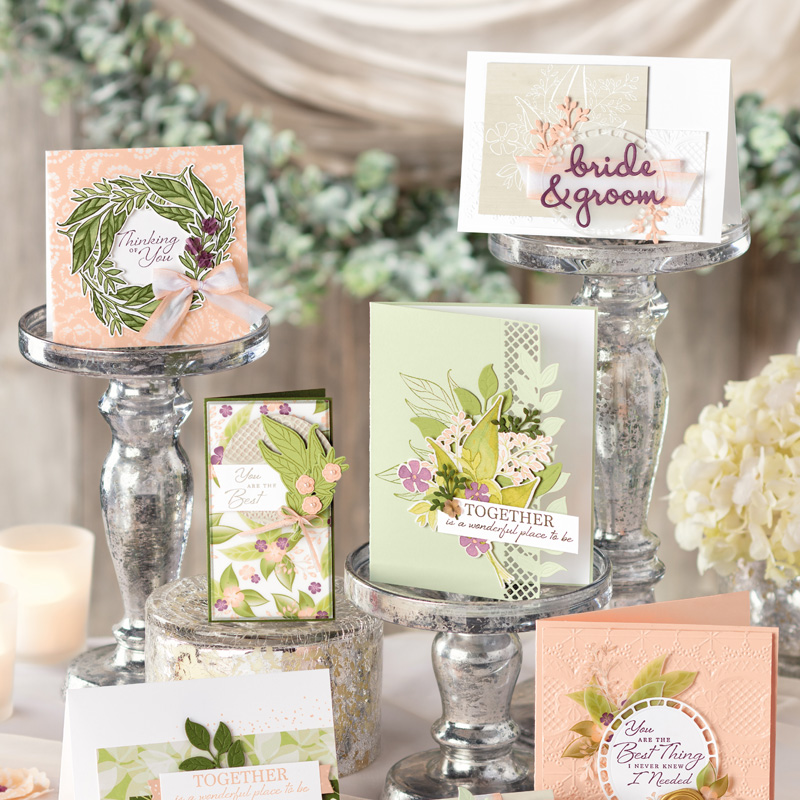 Ik gebruikte voor mijn kaart producten uit de Floral Romance Suite... En van de mooiste Suites uit de voorjaarscatalogus, wat mij betreft... De kleuren en afbeeldingen zijn prachtig en zo breed bruikbaar!
De Suite is romantisch, maar op een moderne en frisse manier! Echt eens iets anders!
Op de achtergrond is het prachtige Designer Series paper te zien. ( Floral Romance Specialty Designers Series Paper) Heel mooi papier EN bedrukt Vellum zit er bij. Daar kun je natuurlijk allerlei leuks mee doen!
Met de Rectangle Stitched Framelits maakte ik het frame op de kaart.
Met de stempelset Wonderful Romance en de bijpassende Wonderful Floral Framelits maakte ik allerlei bloemen, takjes, blaadjes en bloemen. Stempels en dies zijn trouwens samen met bundlekorting te bestellen! JE mag er tot eind maart dan ook nog een Sale-A-Brationkado bij uitkiezen!
Ik kleurde ze in met Inkt, ik stanste en sponsde, en verwerkte ze op de kaart. Je ziet dus allerlei verschillende elementjes en simpele techniekjes... wat de kaart weer wat interessanter maakt.
In twee tegenover elkaar liggende hoeken kwam zo'n mooie compositie. En kijk eens wat een prachtige zegel er ook bij is geplakt. Dit is een van de Floral Romance Seals uit de Suite. Dit geeft wel een heel mooie afwerking.
Het voordeel van een suite is gewoon dat je naast stempels ook meteen van alles hebt wat er bij past, inclusief cardstock, decoraties en meer! Je kunt er naar hartelust mee mixen en matchen want alles past dan altijd bij elkaar. Ik vind dat altijd zo heerlijk ontspannend werken!
En natuurlijk ben je niet gebonden aan de Suite maar kun je de onderdelen ook weer mixen en combineren met allerlei andere spulletjes. Net waar je zin in hebt!
Door het kleurgebruik is het, ondanks dat er toch heel wat op de kaart gebeurt, toch een mooi en vrij rustig geheel geworden, waarbij de bemoedigende tekst prima past!
De tekst komt uit de stempelset Amazing Life. Van zo'n mooie tekst krijgt volgens mij iedereen een boost! ;o)
Je kunt de Floral Romance Suite vinden in de voorjaarscatalogus op bladzijde 10-11. Heb je deze niet? Je kunt alle catalogi ook online bekijken, ze staan allemaal aan de rechterkant hier op mijn blog! Klik op het plaatje en hoplakee! Wil je graag een papieren expemplaar kun je daarvoor uiteraard bij mij terecht!
Je kunt je voorstellen hoe mooie deze suite ook kan zijn voor romantische kaarten, scrapbooklayouts, de aankleding van huwelijksfeesten, en nog heel veel meer! Ik heb er laatst een mooie opdracht mee mogen doen...
Daarover zal ik binnenkort meer vertellen...
Wat heb ik gebruikt:
Stempels: Wonderful Romance, Amazing Life
Papier: : Cardstock: Pear Pizzazz, Fresh Fig, Whisper White, Shimmery White
DSP: Floral Romance Specialty Designer Series Paper
Inkt: Fresh Fig, Pear Pizzazz
Dies: Wonderful Romance Framelits, Rectangle Stitched Framelits
Embellishments: Floral Romance Seals
Tools: Big Shot, Die Brush, Aqua Painters, Stampin'Sponges
Tot snel,
Annette
Eerstvolgende (mee)besteldagen:
Maandag 11 maart om 19.00 uur
en spaar voor gratis producten!
***Met diverse Clubvoordelen ;o)***
Wil jij graag de
jaarcatalogus en/of de NIEUWE voorjaarscatalogus ontvangen??
Vraag er eenvoudig eentje aan door mij een EMAIL te sturen
Of doe een bestelling, dan voeg ik hem er gratis bij!
Ben je ook dol op stempelen, houd je van korting en zou je wel bij het gezelligste team van Nederland willen horen?
Kom er bij!
( en kies als je dat wilt de Exclusieve TOTE bij je Startpakket!)