Ja, poeh zeg, het weer slaat nu echt om. Deze week deed ik voor het eerst de verwarming weer aan! Zonder dat is het echt niet meer behaaglijk in huis!
En ook ging vannacht de klok weer een uurtje terug, en er werd zelfs voorspeld dat de eerste sneeuw kon gaan vallen.. en ook al gebeurde dat uiteindelijk niet......het is nu meer dan duidelijk: De wintertijd komt er weer aan! Tijd dus voor een KOEL kaartje ;o) Alvast voor de kerst!
Dit is echt een lekkere set om of even snel een mooi kaartje te maken, OF om hem te combineren met allerlei techniekjes! Dat kun je zelf invullen... de basis is in ieder geval al prachtig. Het levert in ieder geval hippe, originele kaarten op!
In de set zitten heel mooie achtergrondstempels waarmee je perfect dat sneeuwstorm gevoel kunt maken. De vlekjes zijn echt gaaf, je ziet eigenlijk niet dat het gestempeld is. Ik maakte met deze stempels een basis. Over deze achtergrond heb ik vervolgens kleine sneeuwvlokjes gestempeld.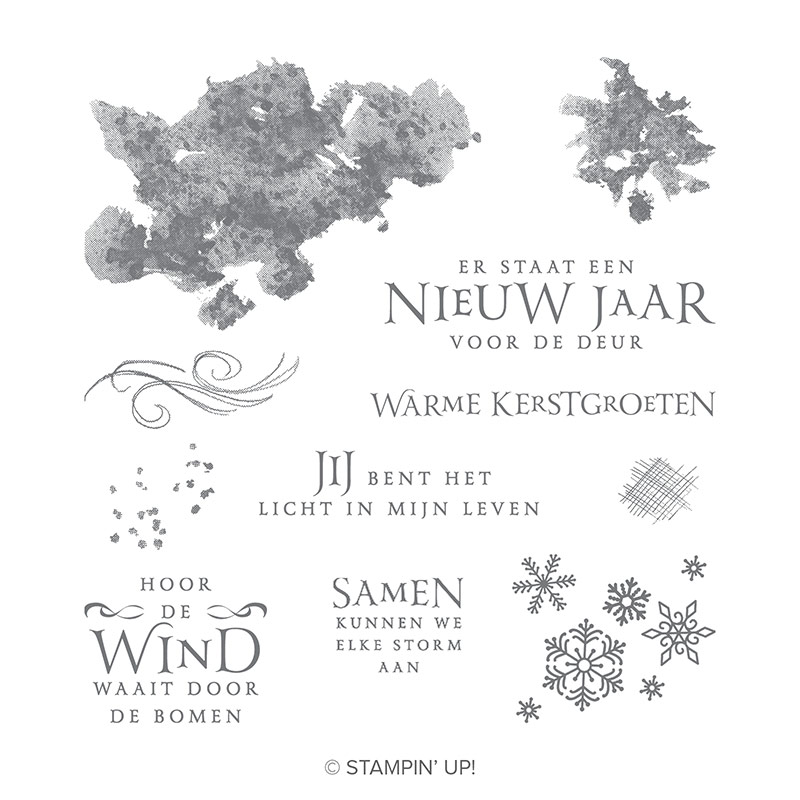 Met de stipjes stempel uit de set heb ik zilveren stipjes gemaakt over alles heen, met Versamark en daarna Zilver Embossingpoeder en de Heat Tool. Dat geeft een lekker ijzig effect!
Vervolgens heb ik een velletje Shimmery White Cardstock genomen, nat gemaakt en bestrooid met Brusho. Lekker royaal zodat het mooi donkerblauw werd... Na het drogen heb ik er met de Blizzard Thinlits die een heleboel mooie ijskristallen uit dit papier gestanst en een paar daarvan op deze kaart gebruikt.
Maar als je meer zin hebt in een snelle kaart kun je dit natuurlijk ook uit cardstock stansen dat al blauw is. Voor deze kaart nam ik de mooie blauwtint Blueberry Bushel. Het blauwe Brusho past daar prachtig bij.
Ook de tekst (Leuk he, warme kerstgroeten, op een sneeuwstorm kaart! ;o) ) heb ik met Silver embossingpoeder gemaakt, op een strookje blauw (blueberry Bushel) cardstock. Op bovenstaande foto zie je mooi de glans er van.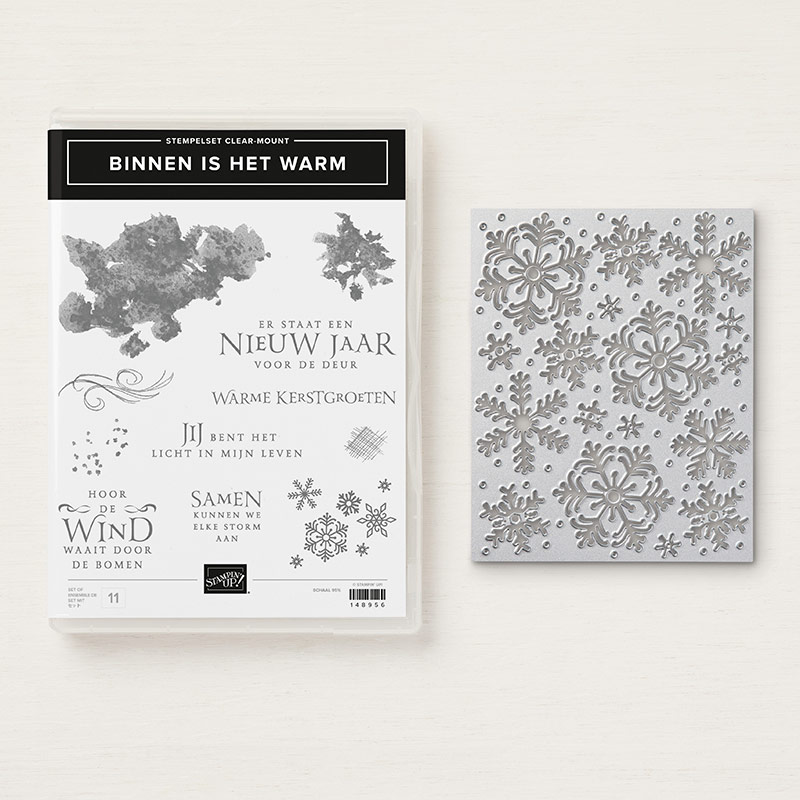 De stempels en Thinlits zijn overigens samen met tien procent bundlekorting te bestellen.
Ik houd erg van de "Artsy" uitstraling van deze set. Bovendien kun je alle onderdelen van de set weer zo fijn combineren met andere stempels en dies die je al hebt, wat hem extra veelzijdig en waardevol maakt! Ik vind het leuk als ik veel kanten op kan met een set! Dat zijn immers de sets die je het vaakst gebruikt!
De maand oktober is al weer bijna voorbij, en morgenavond, maandag 29 oktober is alweer de laatste (mee)bestelavond van deze maand. Dus ook de laatste kans op het gratis workshoppakketje, waar onder andere een kwart pak Designer Series Paper zit...met alleen voor jou zichtbare bijbehorende Tutorial! Mis het niet!
Wat heb ik gebruikt:
Stempels: Binnen is het warm
Papier: Whisper White, THick Whisper White, Blueberry Bushel, Shimmery White
Inkt: Blueberry Bushel, Versamark
Dies: Blizzard Thinlits
Embellishments: Silver EmbossingPowder, Brushoset
Tools: Stampin'Spritzer, Heat Tool, Embossing Buddy, Big Shot, Die Brush
Tot snel!
Annette
Eerstvolgende (mee)besteldagen:
Maandag 29 oktober om 19.00 uur
en spaar voor gratis producten!
***Met diverse Clubvoordelen ;o)***
Wil jij graag de nieuwe
! catalogus ontvangen??
Vraag er eenvoudig eentje aan door mij een EMAIL te sturen