Tussen alle voorbereidingen voor de
Kijkkast Workshopdag
door (tot op het laatst kregen we nog veel aanmeldingen maar toen zaten we helaas al helemaal vol!) ga ik even zitten voor een blogpost. Nee sorry, ik mag nog niets loslaten over deze dag, maar ik ben eerlijk gezegd wel helemaal hyper want nu bijna alles klaar is zie ik dat het wel een HEEL erg gaaf geheel gaat worden! Ik kijk er al naar uit!
Maar daarover later meer ;o) Eerst ga ik een leuke tienerproject aan jullie laten zien! EN vertellen over een nieuwe Kijkkast Feest-Tiendaagse Aanbieding!
Tieners zijn een heel "eigen publiek" om iets voor te maken!
Vaak vragen ze voor hun verjaardag geld, of een kadokaart oid. Dat is natuurlijk een prima kado, maar best saai om te geven, dus is het leuk er een stoere verpakking omheen te maken.....
Vroeger verwachtte ik dan dat ze zich niet zo zullen interesseren voor de verpakking, en meteen op zoek gaan naar de inhoud, maar het tegendeel blijkt waar! Ze blijken een passende verpakking juist verrassend leuk te vinden!
Ook als onze kinderen een verjaarsfeestje hebben bij een vriend of vriendin komen ze regelmatig bij me met het verzoek iets te maken om het kado in te doen! Ik maak dus regelmatig dat soort leuke dingetjes en dat vind ik alleen maar leuk ;o)
Kortom, het is een sport om er iets leuks van te maken dat bij hun leeftijd hoort. En het moet natuurlijk een beetje eigentijds zijn. Dan mag het dus vooral niet oubollig of te klassiek worden.
De Sale-A-Brationset Epic Celebration heb ik al heel wat keren gebruikt in de laatste maanden. Voor tieners dus, maar ook voor mannenkaarten.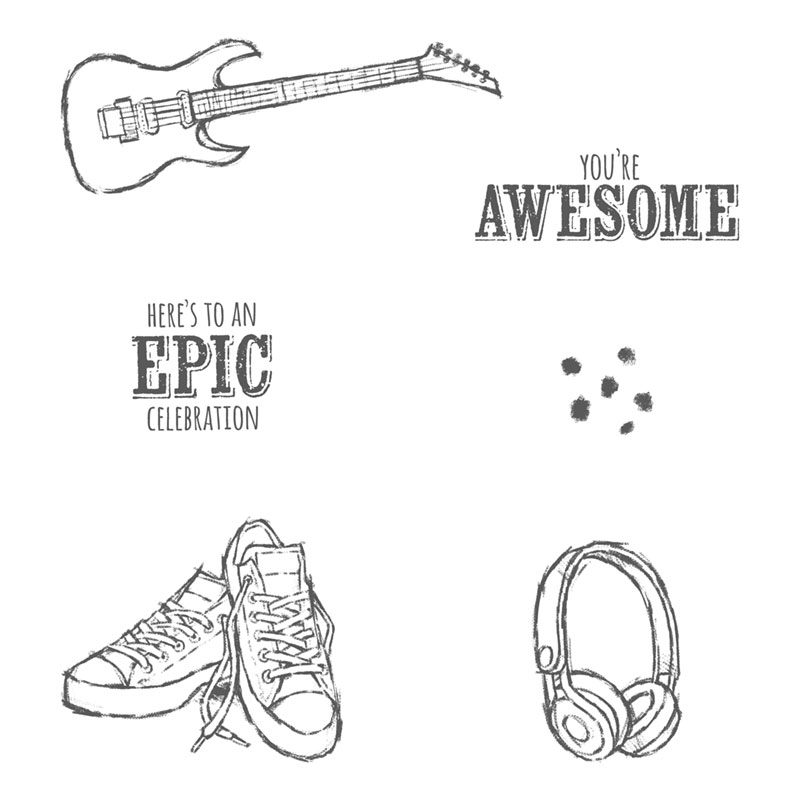 Voor tieners houd ik graag strakkere lijnen aan en frisse kleuren. Bermuda Bay, Lemon Lime Twist zijn samen een prima match en is zeker gecombineerd met zwart en wit een geslaagde combinatie die het altijd goed doet! Door het contrast lijken de kleuren nog feller!
De basis van het doosje maakte ik met een supergave diesset uit de voorjaarscatalogus. De Lots to Love Box Framelits Dies. Deze bestempelde ik met de sneakersstempel uit Epic Celebration met Bermuda Bay inkt. Dat geeft een leuke bijpassende basis die toch rustig blijft. Op het uitgestanste label ( Lots of Labels Framelits) stempelde ik de sneakers in het Basic Black en deze kleurde ik in met Aquapainters en Bermuday Bay inkt. De spikkeltjes stempelde ik met een van de gave achtergrondstempeltjes uit de set Eclectic Expressions, ook een Sale-A-Brationset. De banner er onder maakte ik met Basic Black Cardstock en de Triple Banner pons. De gestempelde tekst ponste ik uit met de Classic Label pons en het Lemon Lime Twist komt terug in het lint.
Zo'n doosje zet je heel snel en stegi in elkaar met de Fast Fuse plakroller. Het lint plakte ik Met Glue Dots en het voor het Label gebruikte ik Dimensionals... Wil je ook graag goede plakmiddelen gebruiken, lees dan vooral de AANBIEDING aan het eind van dit bericht!
Dat alles zo fijn bij elkaar past maakt het knutselen en stempelen veel makkelijker. Geen tijd kwijt zijn aan gezoek naar de juiste kleur, maar gewoon lekker aan de gang gaan en iets leuks maken! Dit is echt zo'n eenvoudig maar leuk projectje om even te maken aan het eind van een drukke dag.
De Epic Celebrations set is echt een van de vele aanraders uit de Sale-A-Brationfolders. Als je ook heren of tieners in je omgeving hebt kun je er heel veel plezier van hebben, maar natuurlijk is de doelgroep veel groter dan alleen dat...De bon voor de sportschool voor die ene vriendin die sportief wil afvallen, of die Itunes tegoedkaart voor die jarige vriend kan ik ook met deze set creatief verpakken ;o) Mogelijkheden genoeg!
Je kunt de Epic Celebrations stempelset nu gratis uitkiezen bij een bestelling vanaf 60 euro. De Sale-A-Bration duurt nog maar tot 31 maart, dus wees er op tijd bij als je deze set niet wilt missen!
Kijkkast Feest-Tiendaagse AANBIEDING!
Stampin'Up! heeft een geweldige collectie uitstekende plakmiddelen die voor uiteenlopende doeleinden gebruikt kan worden. Voor elke toepassing is wel een kwalitatieve plakoplossing. Bovendien zijn ze heel prettig en bijzonder zuinig in het gebruik. Een goede basis is immershet halve werk en dat geldt zeker voor alles wat vast moet zitten, en dat zonder rimpelen, doordrukken, loslaten ed. Geen enkele stempelfan kan zonder goede plakmaterialen.....Daarom heb ik voor jullie een supergaaf Basis Plakmiddelen-pakket samengesteld met superkorting!
Wat zit er in:
1 Fast Fuse Adhesive a 12 euro
2 Fast Fuse navullingen a 2x 9 euro= 18 euro
1 Fine Tip Glue Pen a 8,50 euro
1 Multi Purpose Liquid Glue a 5 euro
1 Tear& Tape Adhesive a 8,50 euro
1 Mini Glue Dots a 6,50
1 Stampin'Dimensionals a 5 euro
1 Mini Stampin'Dimensionals a 5 euro
Dit complete pakket met een waarde van 68,50 euro biedt de Kijkkast jullie nu aan voor slechts 48,95 euro!*
*Geldig zolang de voorraad strekt, maar uiterlijk tm 25 maart 2018!
*Natuurlijk mag je dit aanvullen tot de 60 euro om zo ook een Sale-A- Brationkado te kunnen kiezen!
*Maximaal 2 plakmiddelen pakketten per persoon.
Wat heb ik gebruikt voor het kadoosje:
Stempels: Epic Celebrations (SAB), Eclectic Expressions (SAB)
Papier: Cardstock: Bermuda Bay, Whisper White, Basic Black, Lemon Lime Twist
Inkt: Bermuday Bay, Lemon Lime Twist, Basic Black
Ponsen: Triple Banner, Classic Label
Dies: Lots to Love Box Framelits, Lots of Labels Framelits
Tools: Aquapainter, Big Shot
Tot snel!
Annette
Eerstvolgende (mee-)besteldagen:
Maandag 26 maart om 19.00 uur
Van 3 januari t/m 31 maart: Sale-A-Bration!
Tijdens deze actieperiode mag je bij je bestelling vanaf 60 euro een gratis kado uitkiezen!
Nieuw! Ook zijn er extra luxe kadoos uit te kiezen, bij een bestelling vanaf 120 euro!
en spaar voor gratis producten!
***Met diverse Clubvoordelen ;o)***
Heb je de nieuwe Catalogus nog niet in huis?
Vraag er eenvoudig eentje aan door mij een EMAIL te sturen