Op veler verzoek, komt na twee supersuccesvolle Kijkkast Stempelzomers nu ook een winterse Editie aan van dit gave concept!
Stel je voor:
Lekker thuis,
bij de kachel,
in je huispak,
of je oude slobbervest ;o)
of op je sloffen,
op je eigen moment.....lekker creatief aan de slag met een gave, compleet verzorgde stempelworkshop, alles bij de hand, geen gedoe... gewoon lekker zitten en mooie stempelprojectjes maken! En vooral RELAXED, want deze maanden zijn al druk genoeg!
Net als de Stempelzomer is ook de Stempelwinter is een
all-in-one concep
t. Je krijgt weer een
kit vol mooie goodies
, en een aantal
tutorials
waarin je met deze spulletjes mooie projecten gaat maken! Ook werken we, net als bij de Stempelzomer, met slechts
1 stempelset, plus een pons
. Dat geeft heerlijk gemak en overzicht en bovendien leert het je je stempels en materialen optimaal en veelzijdig te gebruiken. Elk project is immers anders! Net als de Stempelzomer is het eigenlijk een reeks workshops die je thuis kunt doen, en ongelooflijk
veel waar voor je geld
! Want alles (behalve plakmiddelen, inkt ed) zit er bij! We gaan er tenminste vanuit dat je zelf de basisdingen hebt, zoals een potlood, gum, liniaal, schaar etc.
De projecten zijn prachtig maar absoluut niet moeilijk. Je kunt elke tutorial in een avondje doen en eindigt toch met een hele stapel (maar liefst 20!) prachtige, handgemaakte kaarten! De tutorials kun je allemaal bekijken via de Stempelwinter facebookgroep die speciaal voor dit doel wordt geopend, en waar alleen de deelnemers kunnen kijken.
De Stempelwinter is net als de Stempelzomer geschikt voor stempelaars
met veel of weinig ervaring.
Er is prima uitleg, begeleiding en voorbereiding! Uitgangspunt is dat het een fijn en relaxed project wordt met mooie resultaten en heel veel plezier!
Maar er zijn ook verschillen met de Stempelzomer. In de winter is alles immers net even anders dan in de zomer! In dit jaargetijde maken we toch graag veel dingen voor de kerst! Dat wordt dan ook het hoofdthema van deze Stempelwinter.
Waar je bij de Stempelzomer 8 weken lang elke week twee tutorials kreeg, voor telkens 1 project, krijg je nu
vijf tutorials
om elke keer een set van vier kaarten te maken. In totaal dus
20 kaarten
! Nee, niet schrikken, de workshop zit zo in elkaar dat je in een avondje zo de vier kaartjes maakt. En... we hebben er rekening mee gehouden dat je aan het eind van een drukke dag moe bent. Geen denkwerk dus, en geen ingewikkeld meetwerk, dat is allemaal voor je gedaan!
Aan het eind van de reeks heb je dus ruim op tijd voor de kerst
een hele stapel prachtige en persoonlijke kaarten
helemaal ZELF gemaakt. Wat een voldaan gevoel geeft dat en wat is het toch fijn om een handgemaakte kaart te kunnen sturen EN te ontvangen! En het leuke is: Elke kaart is een beetje anders!
Je krijgt net als bij de stempelzomer ook nu een zeer complete luxe kit met alle benodigde materialen maar doordat nu enkele dingen nog niet zijn voorgesneden EN je ruim voorzien wordt van materialen geeft dit je de ruimte om op diverse momenten je eigen keuzes en combinaties te maken maar uiteraard mag je ook gewoon lekker de voorbeelden namaken. Je houdt ook materiaal over dus kunt altijd nog wat extra maken!
Maar.... er is nog meer! Naast deze vijf tutorials vind je nog een hele
dosis BONUSMATERIAAL...
Extra video's met extra ideeen met je stempels en pons EN de spulletjes om deze extraatjes ook te maken! Ook NIET-KERSTIGE projecten! Kortom, je gebruikt je stempels en de materialen maximaal en doet een berg ideeen op! Hoe gaaf is dat!
Alles op een rij:
De Stempelwinter duurt van 17 november tm 8 december.
Je krijgt vijf tutorials waarmee je iedere keer vier prachtige, stijlvolle kerstkaarten maakt (dus in totaal 20 kaarten!)
Je krijgt minimaal vier bonusvideo's waarin je leuke extra projecten maakt, waaronder ook ideeen om de set te gebruiken, ook NA de kerst! Deze kun je dus ook later maken, mocht je er niet meteen aan toe komen...
Ik geef je volop extra tips en ideeen!
Alle gebruikte materialen ( Papier, cardstock, embellishments etc) zitten in de kit
Je gebruikt voor alle projecten slechts 1 stempelset, en 1 pons
Kleur en sfeer: Natuurlijke rustieke warme kersttinten, een klein beetje "grunge", met wat glans en koperaccenten.
Je hebt zelf alleen je basisgereedschap nodig en enkele inkten. ( het exacte lijstje ontvang je na je aanmelding) Lekker overzichtelijk en makkelijk, dus telkens even een heerlijk crea-stempel-uurtje voor jezelf en en een mooie stapel luxe handgemaakte kaarten op tijd klaar voor de kerstpost! Plus je bonusprojecten natuurlijk en een heleboel plezier, ideeen en inspiratie met je geweldige stempelset!
We gebruiken deze stempelset:
De "Peaceful Noel" Bundle met de stempels EN de Sprig Punch!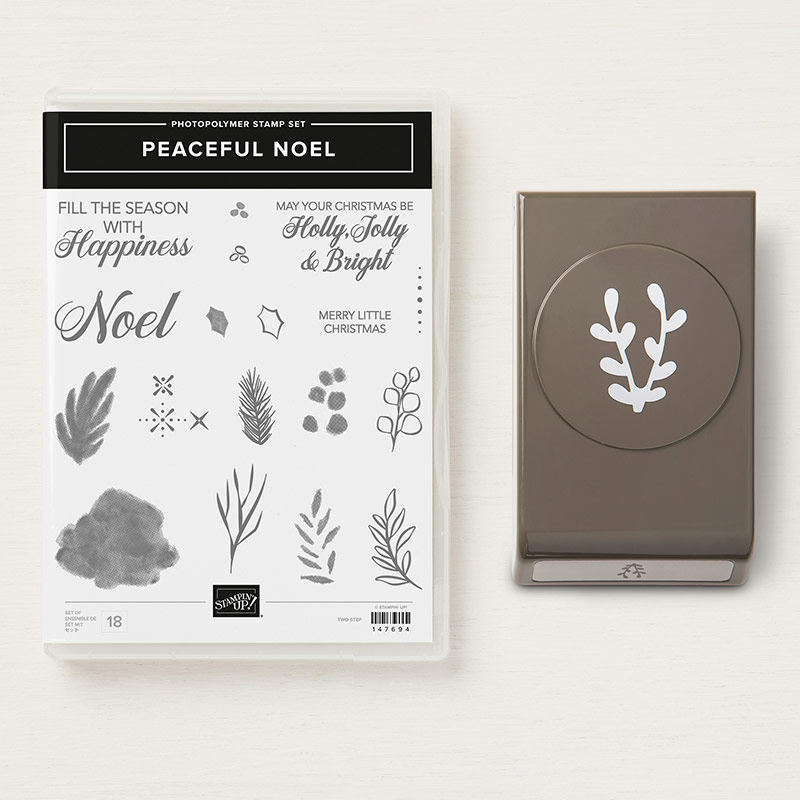 Maar natuurlijk kun je ook kiezen voor de
Nederlandstalige
versie van deze set:
De "Vrede met Kerst" Bundle, met de stempels EN de Sprig Punch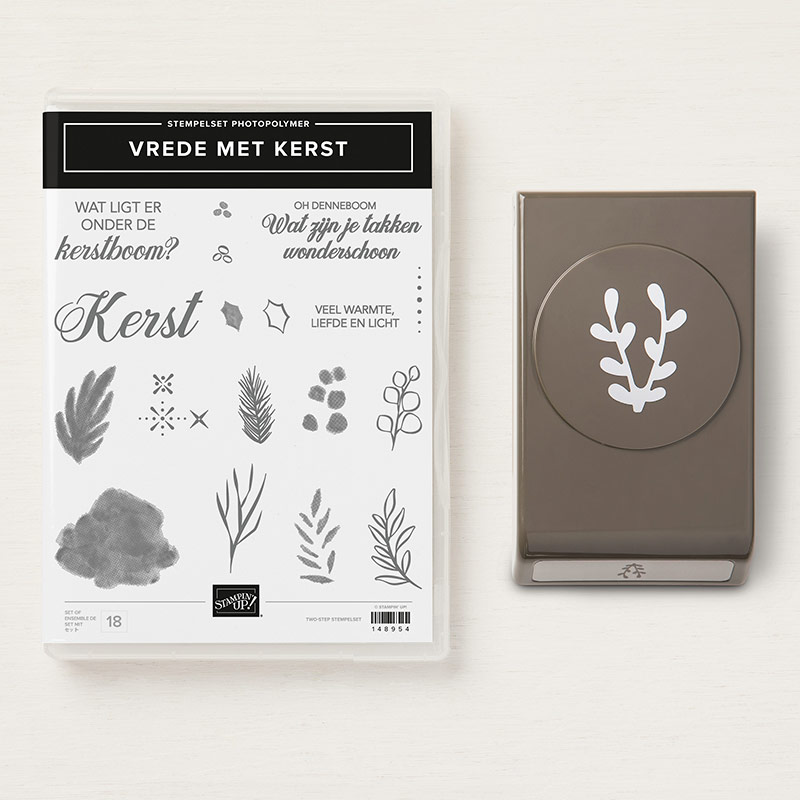 Dat is geheel aan jou! ;o)
Wat kost het en wat zit er dan bij?
Deelname aan de Kijkkast Stempelwinter is slechts 69,50!
Slechts?
Ja, want dit is een
ALL IN prijs.
..hiervoor krijg je dus:
Exclusieve toegang tot de besloten Stempelwinter facebookgroep,
Enthousiaste en betrokken hulp, begeleiding, tips en trucs waar nodig,
VIJF uitgebreide stap voor stap video-tutorials
EN luxe materiaal (papier, cardstock, embellishments etc) voor maar liefst 20 kerstkaarten,
EN minimaal vier verrassende bonusprojecten,
(en je houdt materiaal over voor meer!)
INCLUSIEF een KIJKKAST-VOUCHER twv 38,50 euro!!!!.
Hiervoor kun je precies de gebruikte Stempelset en pons*** bestellen!
***Aangezien sommige deelnemers deze bundle al in hun bezit hebben kunnen zij er in dat geval voor kiezen iets anders voor de voucher te nemen. Zo kunnen ook de mensen die de bundel al hebben meedoen!***
*De prijs is exclusief verzenden (omdat veel mensen hun pakket bij mij komen ophalen)
*De prijs is exclusief de benodigde inkten (maar de meeste (of misschien wel alle) kleuren zul je waarschijnlijk al hebben).
Hoe meld ik me aan?
Je kunt je aanmelden door mij een
EMAIL
te sturen. ( Je mag uiteraard ook mailen als je nog vragen hebt!)
Aanmelden kan tot en met 11 november 18.00 uur zodat ik dan meteen de materialen kan bestellen en de kits kan voorbereiden en iedereen tijdig de spulletjes in huis heeft.
Na je aanmelding ontvang je alle overige benodigde informatie. Dat komt helemaal goed!
Je bent van harte welkom bij de Kijkkast Stempelwinter 2018!
Ik hoop je snel te zien in onze facebookgroep. Heb je nog vragen? Stel ze me gerust!
Winterse Stempelgroet ;o),
Annette